Western Parkland City councils have joined an ecosystem of 11 other Australian councils to accelerate their smart city initiatives.
There are many examples of Australian councils embarking on smart city journeys, but many of them meeting with mixed success — from vertical/siloed solutions to complex, time-consuming and expensive initiatives — before being able to demonstrate any tangible outcomes and benefits to their stakeholders and the community.
As Peclet's Director of Sales & Marketing, Paul Painter, describes it:
Smart city initiatives don't have to be complex, time consuming or expensive
This is exactly what is making Peclet's approach to IoT different, agile and focused on maximizing value to the end user - the citizen.
Coogee, home to one of Sydney's most popular beaches
With more than 8,000 visitors per day, Coogee Beach is loved by locals and visitors alike. Buzzing with bars, restaurants, coastal walks and parks, it's an ideal environment to test data-driven technology projects aimed at optimizing the beach-going experience.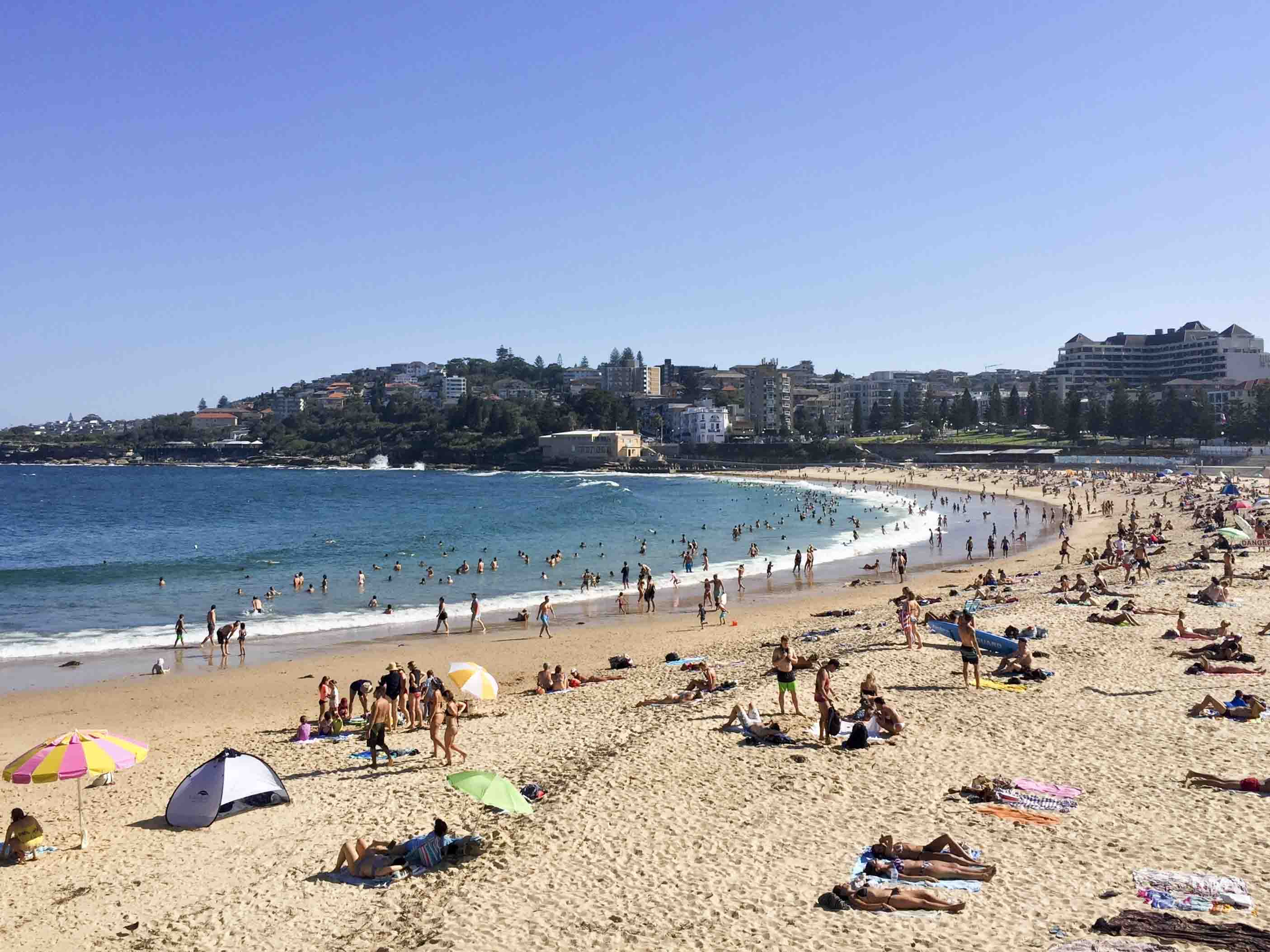 The Challenge:
A multifaceted approach to test technologies in the harsh coastal environment
Supported by the Randwick City Council and The Smart Cities and Suburbs Program, the Australian government created a program to support the delivery of innovative smart city projects.
Dedicated teams faced the challenge of creating a better beach experience. By integrating cutting-edge platforms with open data sources, they sought to create a unified system for beach visitors to access real-time information on weather, beach and safety conditions.

A better beach experience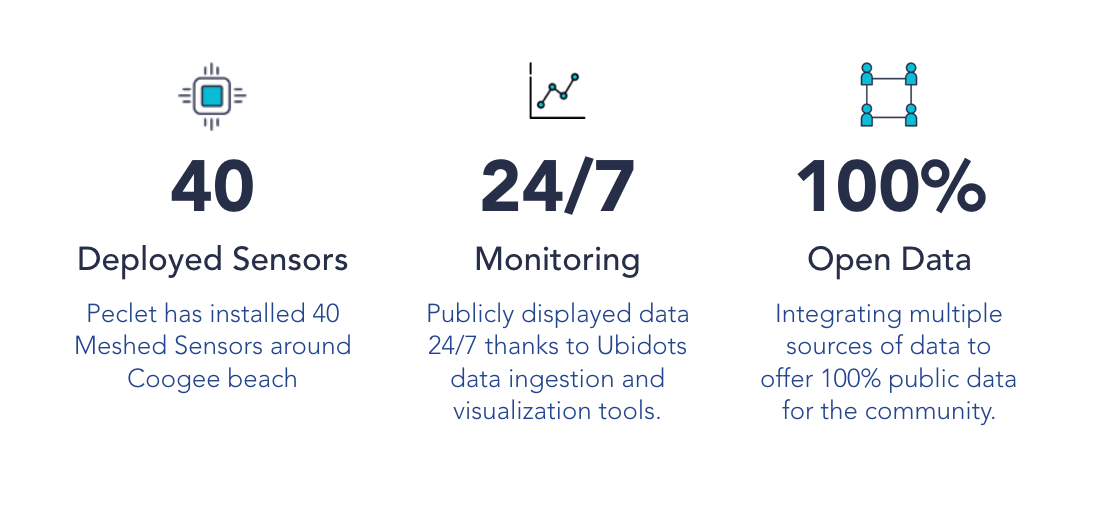 Using data from Meshed IoT Sensors with LoRaWAN network servers through The Things Network, and sharing it with OpenDataSoft; Peclet developed a digital display integrating all these tools in Ubidots.
With Ubidots pre-built visualization widgets, we could easily create dashboards to view sensor results and control devices in real time. Just fill a dashboard with prebuilt graphs, charts, tables, indicators, maps, metrics, and controls, or develop your own using an HTML Canvas and custom code.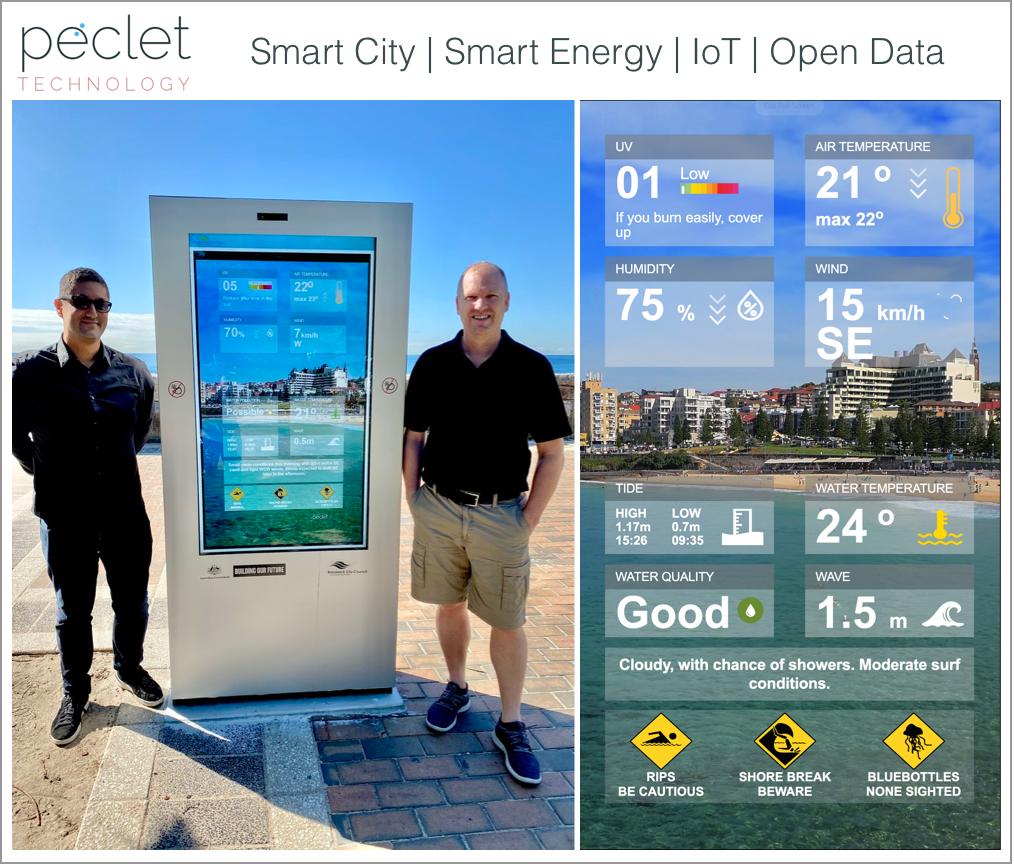 Additional benefits:
Using Coogee as a testbed to validate solutions before rolling them out to other beaches
Providing community benefits via improved amenity access
Boosting economic development for the region by driving tourism to local businesses
Improving safety on both water and land, and maintaining Coogee's place as a premier beach in SydneyOffering potential visitors a Coogee beach live stream to bolster interest
Beyond Smart Beaches
Eurobodalla Shire Council is another great example of a regional council that has been able to progress quicker than most larger cities and with minimal spending. Its smart city solution is based on a LoRaWAN network, Ubidots IoT platform and Opendatasoft for data sharing. The range of use cases it has been able to implement is impressive:
Smart bins and smart parking solutions in Batemans Bay
People counting in the public library
GPS tracking of council vehicles
Traffic counting on the Princess Highway and at various boat ramps
Flood monitoring, and even flying fox counting!
The data it is collecting about the Princess Highway is made available to Transport for NSW and has been instrumental in right-sizing a new bridge project at the entrance to Batemans Bay. With flood monitoring the council is able to send early warnings to local businesses that might be affected.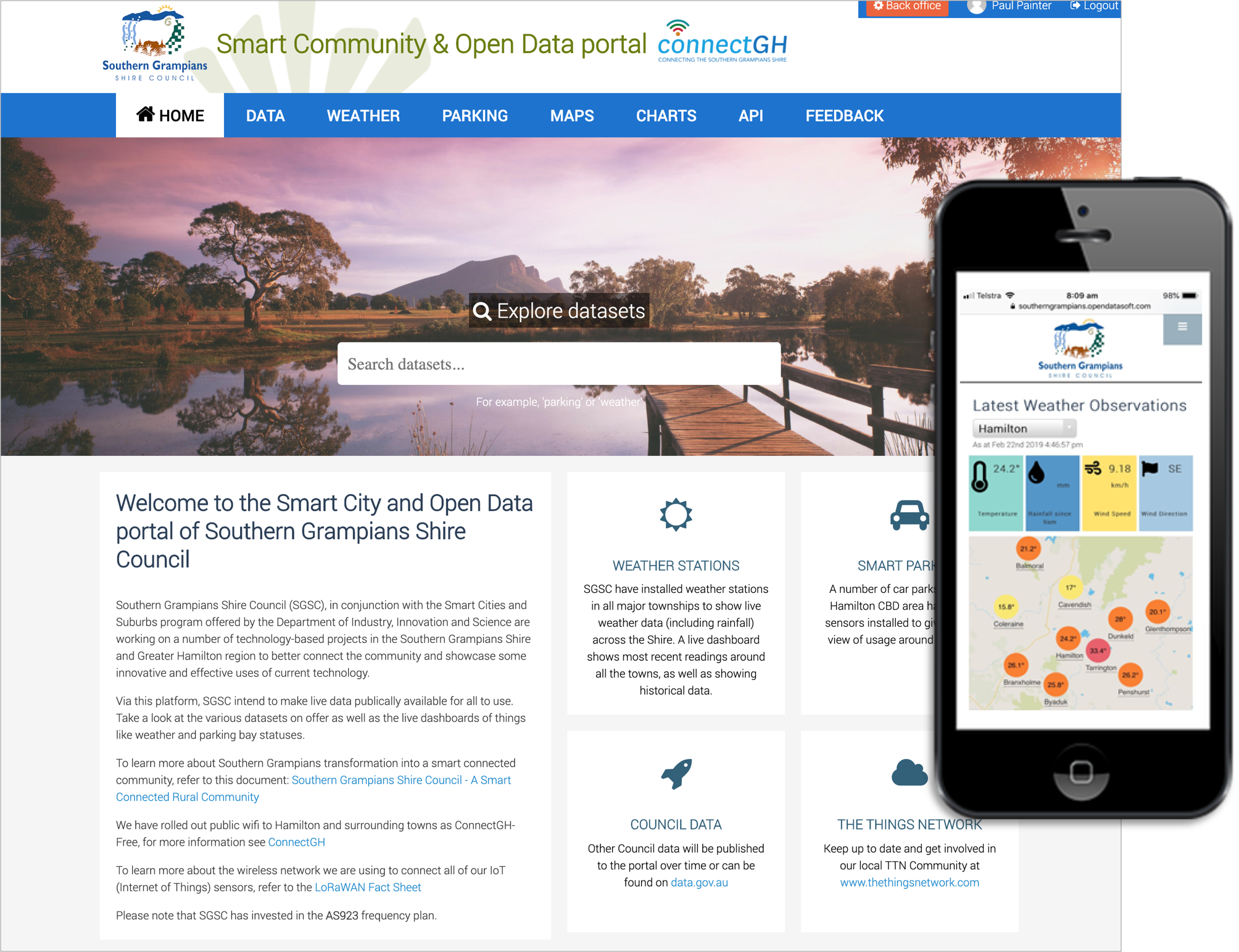 Interestingly, some larger councils such as the City of Greater Geelong have looked at these solutions and realized that — despite their larger size and potentially larger ICT budget — there was no reason why they should over complicate their smart city architecture when turnkey solutions such as Ubidots and Opendatasoft would make their life easy and accelerate delivery. Recognizing how IoT architectures that support city-wide deployments can be designed with both simplicity and power in mind, Peclet's CTO, Hassan Gabru, says:
"All our components are on scalable AWS infrastructure, so there is no limit on the number of users and size of operations it can support. Huge cities like Paris and Mexico City are using Opendatasoft, and the City of Melbourne is also using Opendatasoft for their IoT and 5G tested."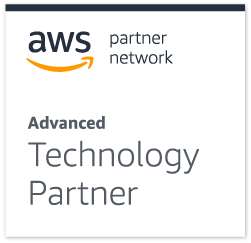 Ready to build your IoT solution?
Get in touch, or create a free 30-day trial. Let's build our connected future, today.
About Peclet
Peclet Technology, a Sydney-based team of data scientists, consultants, and developers, utilizing cutting-edge tech to optimize the public goods and services of Australian city councils. Peclet is Ubidots' official distributor for Smart Cities applications in the region.
To learn more about Peclet's Smart Cities solutions, reach out to Paul Painter (paul.painter at peclet.com.au).