Context
Who: Prospect Control is an engineering company that focuses on industrial control and automation systems. It was founded in 2006 by Steve Barker, and is based in Melbourne, Australia.
What: Prospect's engineering team develops innovative solutions that enhance the operational effectiveness of traditional control systems, including programmable logic controllers (PLCs), instrumentation, and electrical systems.
How: They employ Industrial Internet of Things technologies (IIoT) to monitor tank levels, geotechnical instrumentation (groundwater levels), machine condition monitoring and general process instrumentation.
For whom: Prospect Control's clients include manufacturing companies in the agricultural and chemicals industries and utilities companies in water and power generation.

Problem
Prospect Control has been in constant evolution since its foundation in 2006 by Steve Barker, an avid electrical engineer who's constantly on the lookout for new technology and is inspired by the opportunities presented by Industrial IoT and Industry 4.0 applications.
Steve is a great example of an IoT entrepreneur, not only because he incorporated the intricacies of IoT, but also because he's successfully grown his business with it by providing value to the demanding industrial sector. A testament to this is the recognition Steve and his team got at the Misties Awards, where they earned the second place thanks to their solution that measures and transmits data from field geotechnical instruments using IoT technology.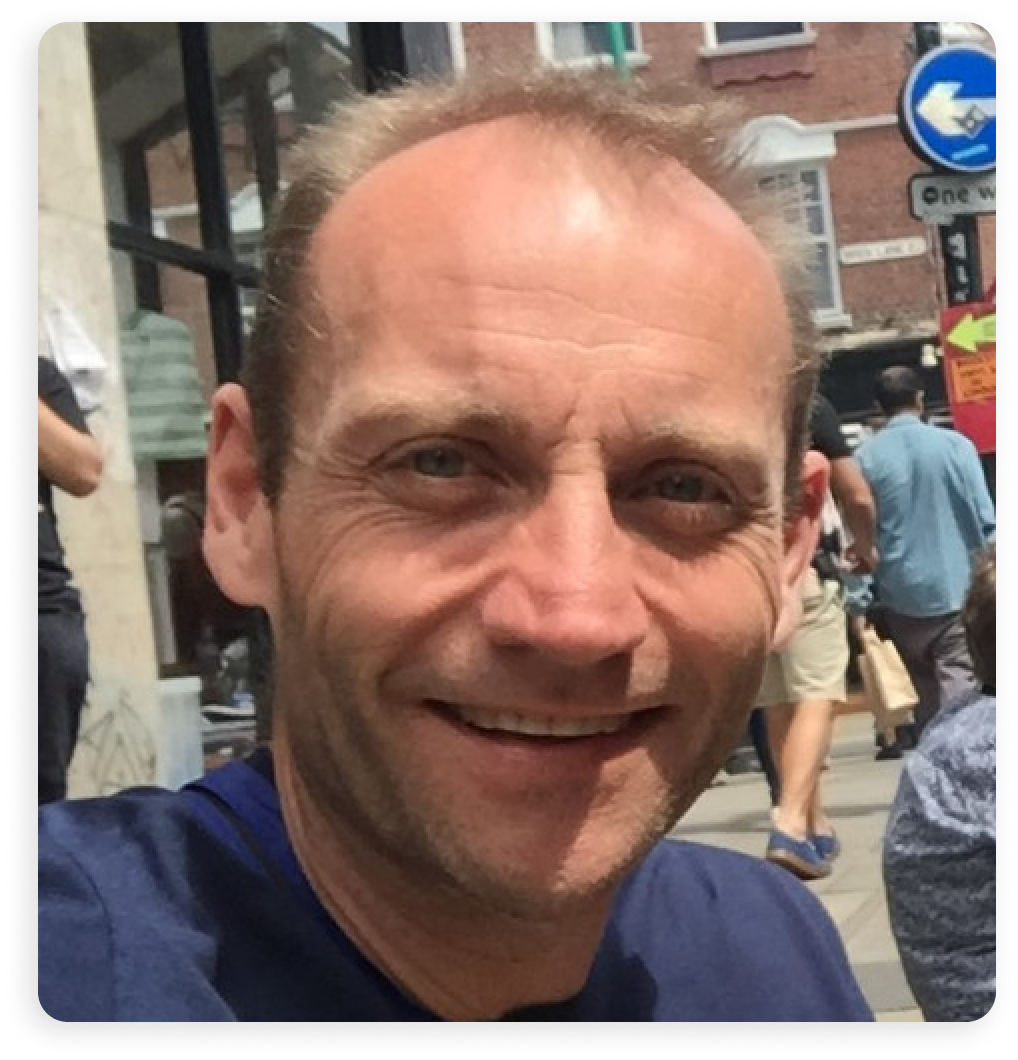 Steve Barker
Dedicated to industrial control and automation systems, Prospect Control looks to save their customers time and money with the implementation of trustworthy and efficient solutions.
They know, as well as their customers, that being able to cut down expenses or simplify tasks in an industrial operation can have a major impact on any business. Processes that require on-site monitoring or repetitive manual tasks can go unnoticed as problematic or expensive, because of how routinary they are, were it not for the advent of new tools and technologies shining a light on the improvement potential that can be achieved by modifying them.
This has been true to their customers, but also to Prospect Control themselves, who, in tandem with industrial partners like Senquip and Ubidots, have managed to incorporate new tools for their solutions, making their job easier, having a bigger impact on their customers, and helping their business grow.
One of Prospect Control's customers, an agricultural chemicals manufacturer, needs to keep track of tank inventory and confirm liquid stock deliveries from suppliers and to customers. This process would have normally required a traditional PLC/SCADA architecture or a manual process of reading and calculating the tank levels on-site that's prone to errors.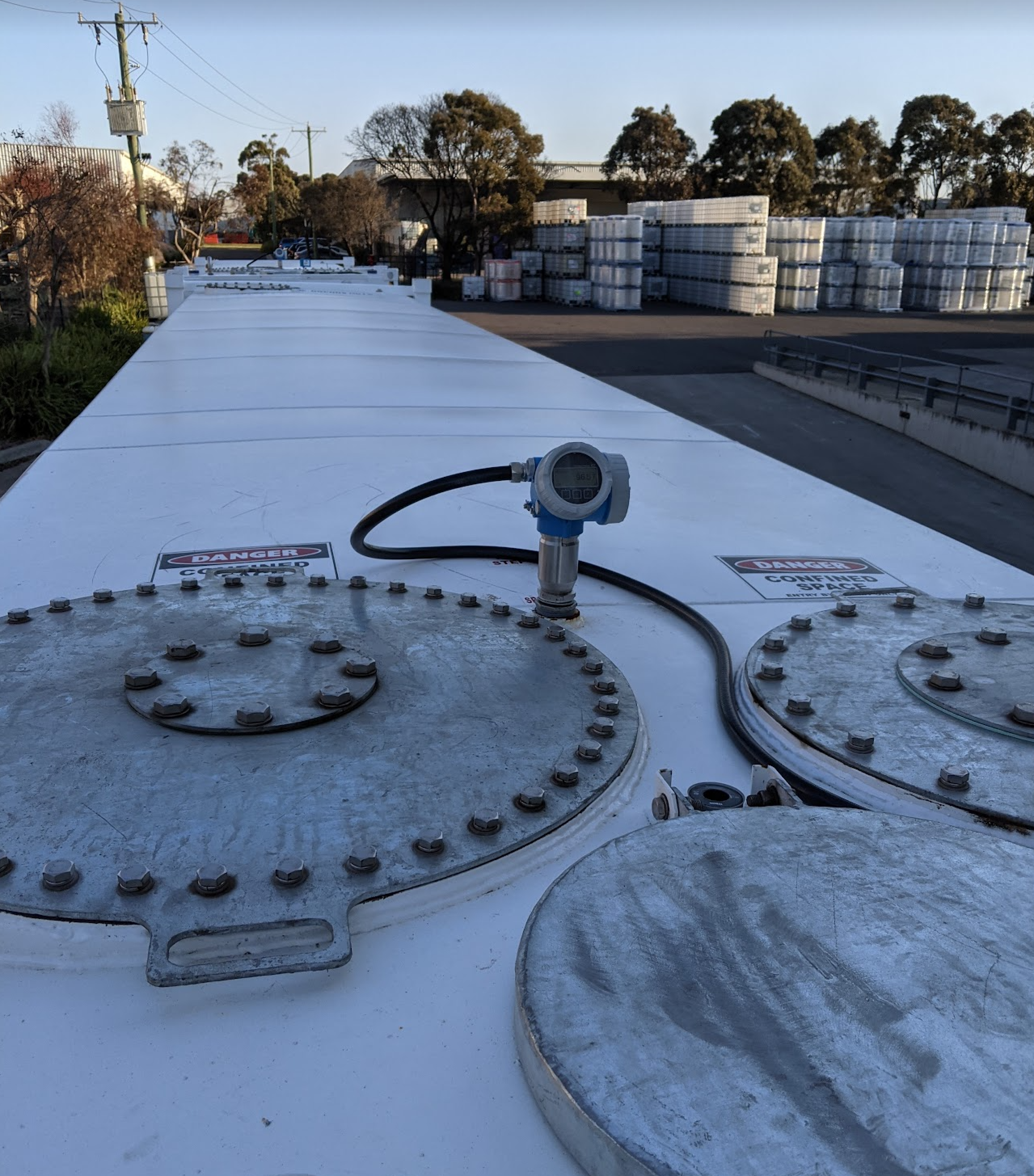 One of the tanks being measured
Solution
Using a handful of IoT tools, such as Ubidots for the cloud portion, and Senquip for the hardware, among others, Prospect Control has been able to replace the setup they would've normally used with this customer, a PLC/SCADA architecture (which is expensive and complex for remote monitoring applications), resulting in an automated solution that gives on-demand access across the organization to the tank levels.
The aim of Prospect Control was to deliver a remote tank level inventory system that was accessible by their customers via a web-based interface. It was also important for the system to be easy to use, and fast to build and deploy. Abstracting complexity for their customers is key, as well as ease of use of the system.
This was achieved with Ubidots, the Cloud IoT Application layer from which Prospect Control provisions and connects their IoT devices via plugins, MQTT and REST APIs. Ubidots also serves as Prospect Control's user-friendly, end-user interface, and is the place where data is displayed in real time thanks to their easy-to-use dashboards.
On the hardware side of things, Prospect Control also introduced the Senquip Orb to their stack, a sensor gateway that receives the data generated by the radar level sensors in charge of measuring the tanks and forwards it to Ubidots via MQTT. The device had to be able to interface to the industrial instruments via 4-20mA signals or Modbus communications, but also needed to be sufficiently tough to withstand industrial environments — requirements met by Senquip's Orb.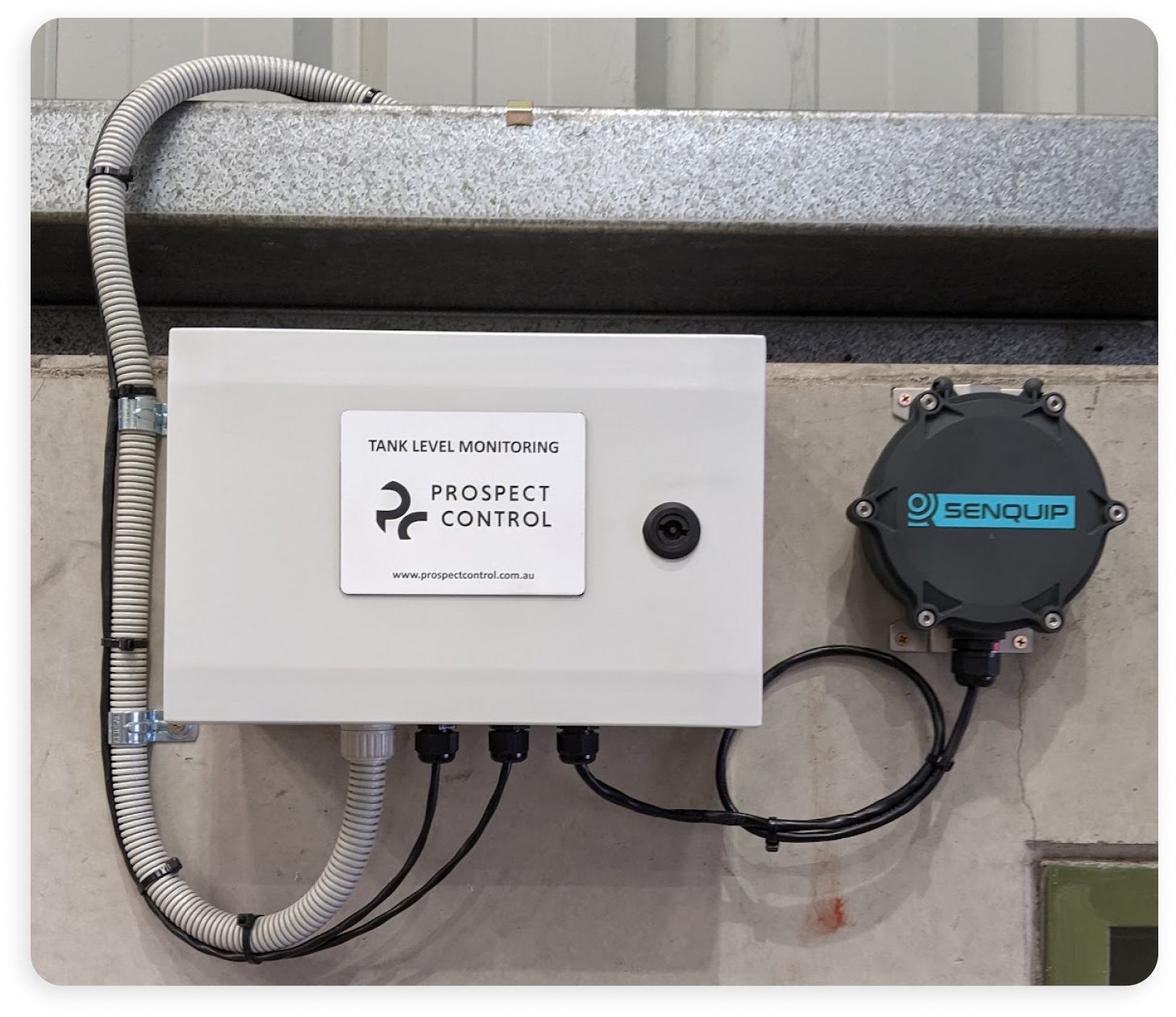 Results
Having deployed this solution on multiple tanks across two sites, the agricultural chemicals manufacturer has plans to roll it to their entire operation in the rest of Australia.
Automating manual tasks and the ability to view data from any location via a secure web interface has completely removed the need for site operators dedicated to this task, allowing them to focus on higher value activities and bringing efficiencies to the business.  This results in substantial operational cost savings of $50-$60k per year, per site, in turn delivering an outstanding ROI for the IoT system.
The solution also contributed to maintaining a healthy working environment for employees during the pandemic, allowing the company to continue their manufacturing operations safely and efficiently during a very challenging time.
IoT has enabled Prospect Control to deliver scalable, economic, and flexible solutions in a rapid fashion and with hardware that is cost-effective compared to traditional alternatives.