Ubidots is excited to announce a new partnership with Soracom, a leading connectivity management platform that provides global cellular connectivity to the IoT world. Soracom connects more than 4 million devices across more than 20,000 businesses.
Soracom is a connectivity provider and a management platform, all in one. Purpose-built for IoT, Soracom's flexibility guarantees integration with virtually any hardware and cloud platform, and its services provide great value beyond mere connectivity.
Soracom's SIMs can connect to 300 networks from some of the top carriers around the world, automatically selecting the best available option when the coverage quality goes down, maximizing the uptime of your devices. On top of that, they also seamlessly connect to multiple speed classes like 2G, 3G, 4G LTE and Cat-M1.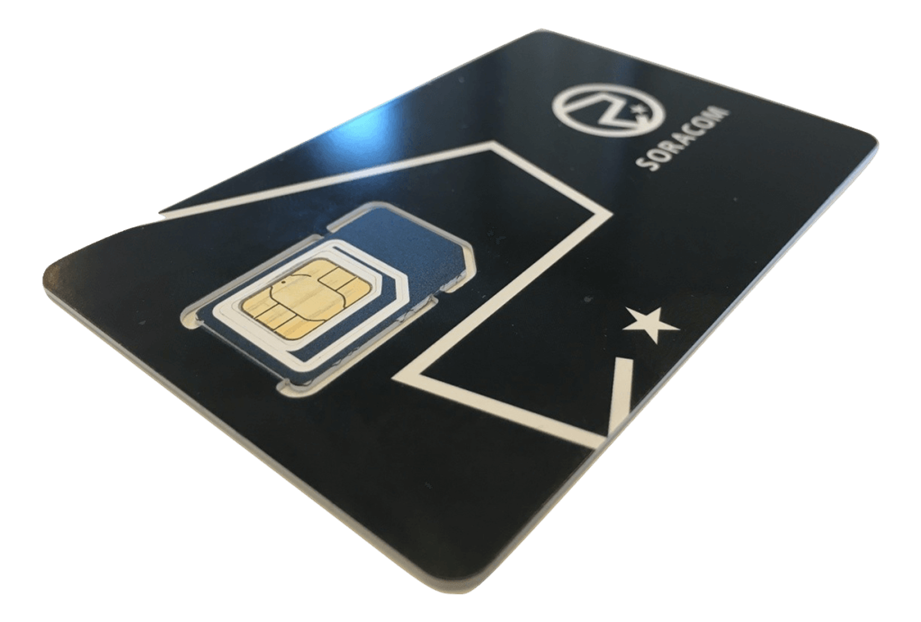 With a 3-in-1 design, Soracom's IoT SIMs can fit into any device with a SIM slot, as it can break into 2FF (mini), 3FF (micro) or 4FF (nano) sizes. There is even an embedded, or eSIM option. The industrial-grade MFF2 eSIM is soldered directly onto your device for a minimal form factor. Soracom's SIMs use 75% less plastic than a regular SIM card, an added benefit for the environment.
Once you're connected, Soracom makes sure you stay connected thanks to their exhaustive platform, from which you can manage not only your SIMs and connectivity, but even your devices. Organize your SIMs however you see fit, keep track of them, run diagnostics when things aren't working right, activate or deactivate them on demand and even perform basic device management tasks — all with just a few clicks.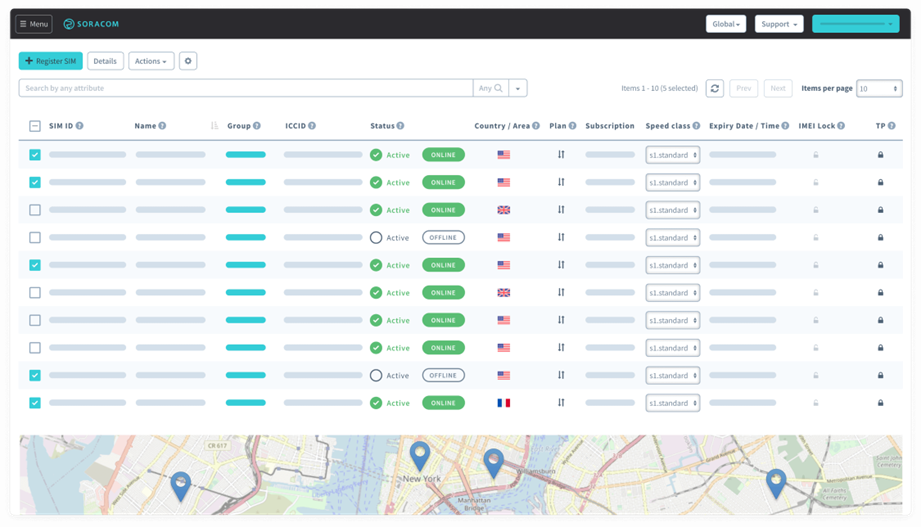 Soracom's dashboard to keep track and manage your fleet of SIMs
Soracom also stands out for its emphasis on you saving resources throughout:
Their usage monitoring and bandwidth control tools ensure no data is wasted.
They offer discounts for high volume use cases.
Soracom has already negotiated the best rates with the top mobile network operators on your behalf. This comes with the added benefit of sparing you the long-term contracts or up-front payments.
Ubidots, for its part, is the perfect place for all those devices to connect to — from one platform you can thoroughly visualize all the data collected by your devices, create detailed alerts and reports to take monitoring to the next level, and, what's best, even set up an IoT business.
Monitoring is turned into a simple and intuitive task thanks to Ubidots' comprehensive visualization tools and its drag-n-drop dashboards. And since this type of monitoring is all about staying ahead of issues and acting on data, Ubidots has an events module that can be granularly configured so that you receive alerts, right when you need them, in the form of SMS, emails, calls or messaging app's notifications.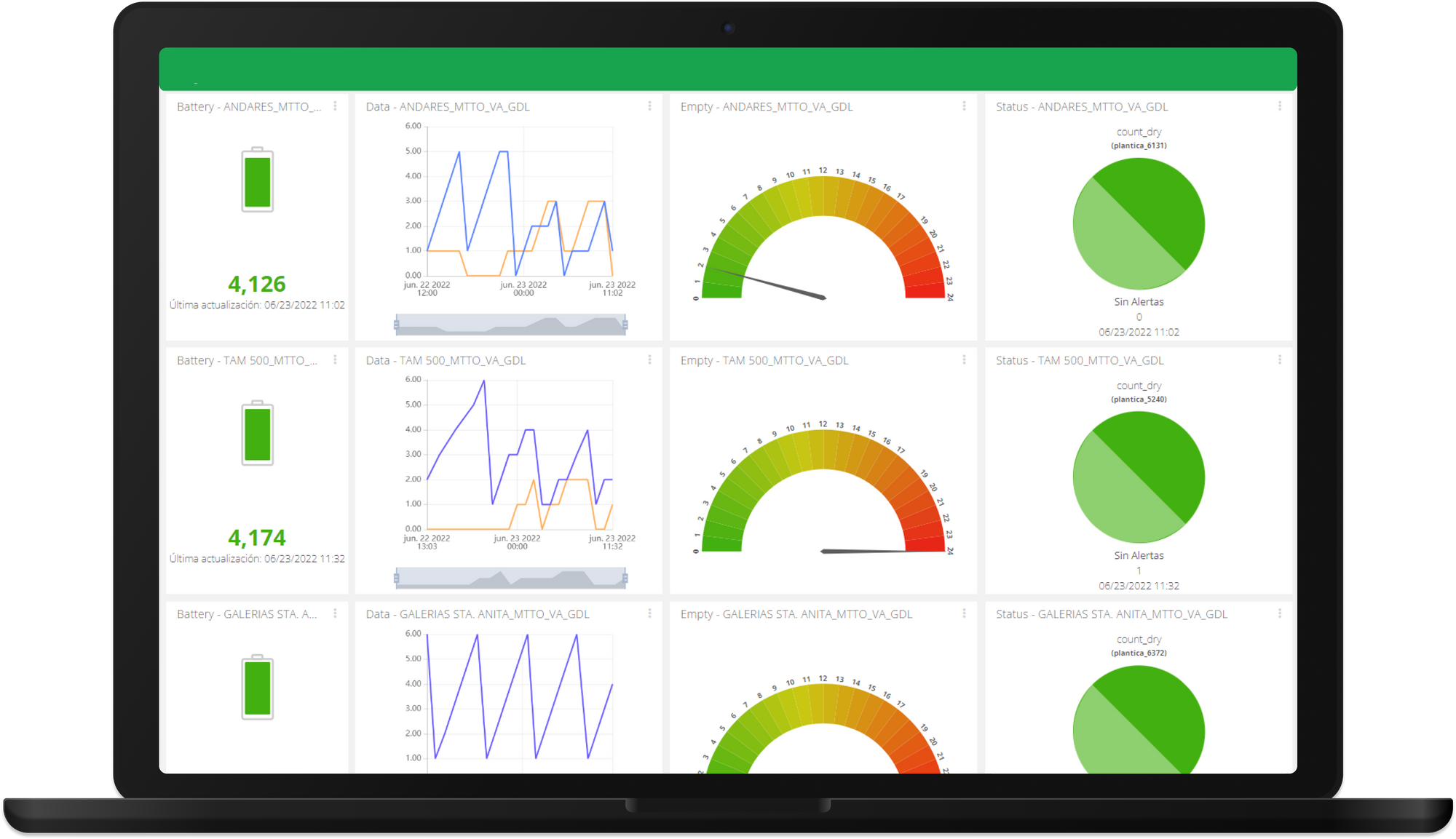 An Ubidots dashboard monitoring multiple variables.
Ubidots also comes with a very convenient reports engine that makes the process of summarizing weeks' or months' worth of data easy and thorough. With the option of choosing within different file formats, the reports can be programmed to be sent through email recurrently so that everyone is always up to date with the operation.
But Ubidots isn't just offering data visualization tools, but an application enabling platform that allows you to deploy a full-blown IoT business: from one account you can create multiple independent, white-label organizations that can be thoroughly customized and accessed by different users whose roles can be defined.

The tools and services provided by Soracom and Ubidots are the building blocks for you to take your IoT solution to the next level.
Get started using this technical guide: Use a Soracom IoT SIM to connect to Ubidots - and create an Ubidots free 30 day trial here.
About Ubidots and Soracom
Ubidots is a low-code IoT development platform for engineers and developers without the time or energy to build an entire, production-ready IoT application themselves. From device-friendly APIs to a clean UI for end-users, Ubidots provides the essential building blocks to bring you faster to market, without having to hire an expensive team of engineers to develop and maintain a customized solution.
Soracom provides global IoT network cellular connectivity for businesses in smart IoT agriculture, energy, consumer, manufacturing, transportation, and medical industries. Founded in 2015, their mission is to accelerate global connection by democratizing the technologies innovators need to create new products, services, and experiences.