Ubidots and Digital Matter partner to power smarter, faster telematics and GPS solutions.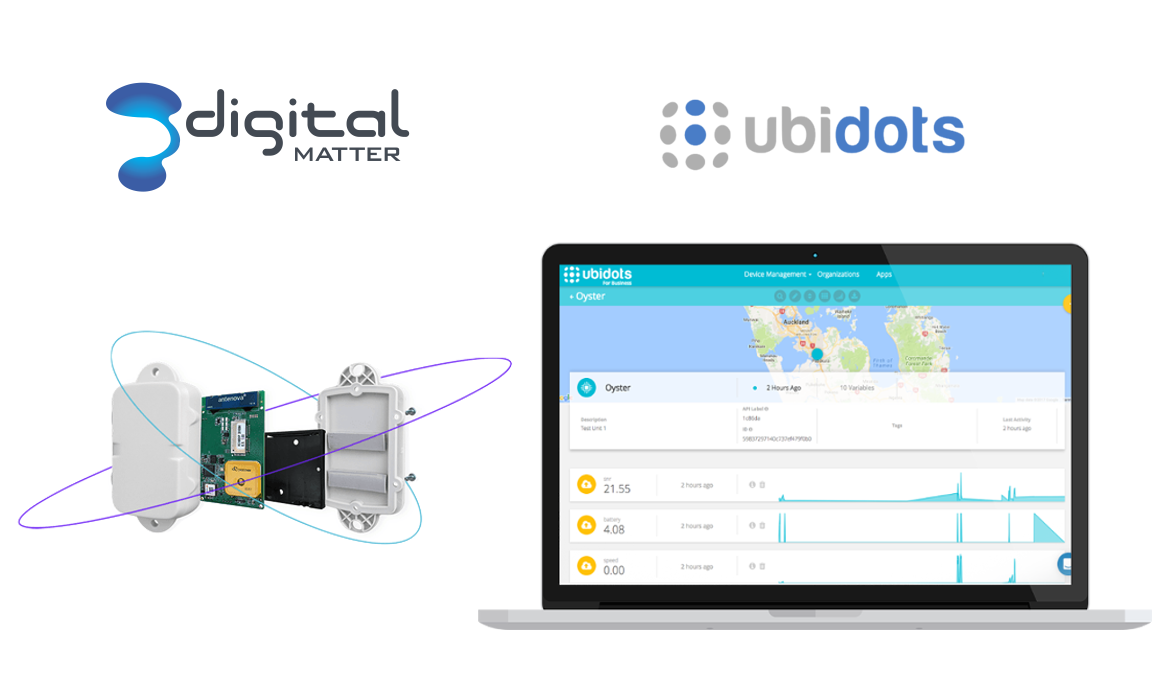 If you work in transportation or have an affinity for taking the back roads, you've likely experienced GPS failure: this app is telling me my truck is…where?
Digital Matter (DM) is here to make tracking tools better — providing smarter, ultra-reliable white-label GPS tracking and telematics devices for resellers in the fleet, logistics, and communications industries. And through a new partnership with Ubidots, you can now easily connect your DM devices to the Ubidots' cloud and an application builder, and create a complete GPS or telematics application in just a few hours.
Introducing the Oyster
Wondering where to start in DM's arsenal of innovative devices? We're big fans of DM's Oyster, a small-but-powerful Sigfox-connected GPS device that boasts a battery life of up to 5 years — and really does look just like its namesake shellfish. It's durable and extremely reliable, perfect for tracking containers, trailers, skip bins, and other assets when a super-long battery life is needed.
The Oyster owes its high-sensitivity location tracking to its concurrent use of both GPS and GLOSNASS, meaning it derives location readings from twice as many satellites. It's battery longevity is thanks to adaptive tracking technology, which relies on accelerometer and GPS data to determine when the device is is stationary, thus sending fewer readings to conserve energy when idle. As is the case with most of our favorite IoT gadgets, it's all about working smarter, not harder.
Once you've got an Oyster in hand, we'll guide you through connecting it to Ubidots (likely taking under an hour). From there you can build custom dashboards, visualizations, maps, alerts, and more using Ubidots simple point-and-click application enablement platform. You could be ready to go with a complete GPS tracking application in just a few hours. We can't wait to see what you come up with!
Learn more about Ubidots & Digital Matter
Ubidots is an Internet of Things (IoT) Application Enablement Platform that empowers businesses to build IoT applications that turn sensor data into actionable insights. Hiring an engineering team to develop an IoT application that both functions and looks great is costly in both time and money, so we did it for you. Ubidots exists as an efficient and economical resource to integrate the power of the IoT into your business or research.
Digital Matter supplies an innovative range of white-label GPS tracking and telematics devices with a user-friendly web-based software platform for resellers of telematics solutions to fleet, logistics and communications industries. Engineered to the highest specification, the extensive range of devices incorporate best quality components from the world's leading manufacturers with cutting-edge design enhancements to maximize reliability and data integrity.
If this is your first IoT application, check out how to build an IoT application in under a day for some helpful tips to getting started with your Oyster.