The healthcare industry is witnessing an increasing arrival of technology. From recording data on papers to using sophisticated software to store and access patient details, medical history, and much more, it has come a long way.
IoT in healthcare is one of the latest advancements that is here to stay.
The use of IoT in healthcare has become even more important today at a time when people are forced to observe social distancing to contain the spread of COVID-19. Online appointments, remote monitoring, and online inventory management have become a necessity.
As per research, healthcare is becoming one of the fastest-growing IoT markets and is expected to reach an estimated value of $158 billion by 2022. IoT in healthcare is helping organizations and individuals bring down hospital stays, re-admissions, and treatment costs by making remote monitoring a reality.
IoT is transforming the healthcare industry in multiple ways other than remote monitoring. It is empowering the patients, professionals, and health insurers with immediate and often real-time access to data and information.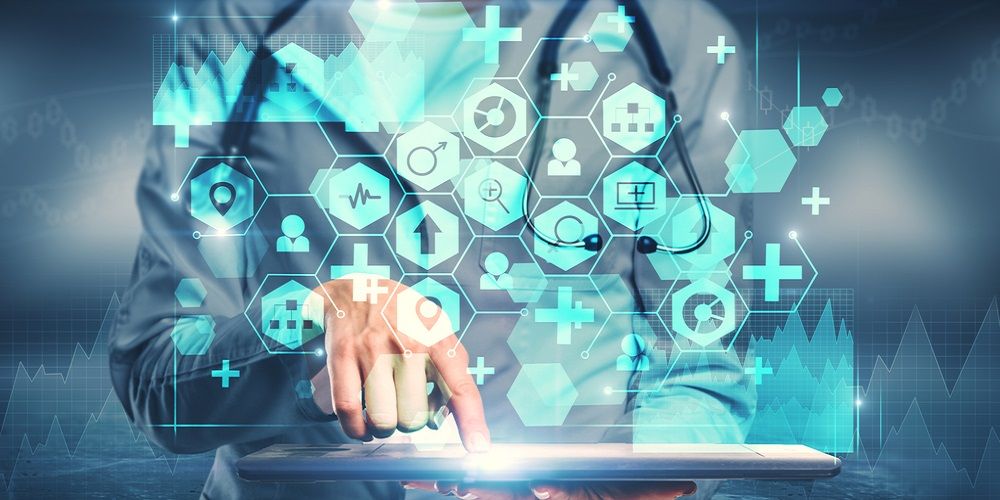 In this blog post, we'll explore the benefits and applications of IoT in healthcare markets.
Applications of IoT In Healthcare
The use of IoT in healthcare has been increasing sharply across different applications. Patients, physicians, hospitals, and health insurance companies alike have been frequently employing IoT applications since the last few years.
Given below are some of the ways Internet of things (IoT) comes in use in healthcare:
- Patients constantly track their health parameters such as oxygen level, heartbeat, and blood pressure using wearables and similar devices without human intervention.
- Physicians monitor  patient's health conditions remotely for treatment adherence and results.
- Hospitals, other than monitoring patients, keep track of the real-time location of medical staff and equipment.
- Health Insurance Companies use IoT applications in underwriting, claim, pricing, and risk assessment operations.
IoT is replacing manual work, streamlining the efforts of physicians where they are actually required. IoT beholds a world full of innovative opportunities for the healthcare industry. Here are some IoT applications widely used in healthcare:
Real-Time Health Monitoring
Real-time health monitoring devices have changed the face of healthcare by allowing physicians to constantly monitor patients' health without scheduling checkups or hospital visits. You too can track your health and observe fluctuations in reports facilitating you to reach for timely professional help.
Real-time monitoring applications can be used to check oxygen, blood sugar levels, blood pressure, weight, sleep, and even raise alarm in the event of heart attacks, asthma attacks, and similar cases.
These applications are usually available in the form of wearable devices which automatically send collected data to physicians. The physician can then address the concerns or progress remotely or during your visits, as required.
Ingestible Sensors
Swallowable pills are one of the best things that happened to healthcare. Most diseases are aggravated when patients fail to take medications at the right time. Ingestible sensors can sense the fluid they are in contact with and automatically send an alarm to the physician whenever the patient takes the medicine.
Ingestible sensors allow physicians to easily monitor whether the patients are taking the right medicines at the right time. Researchers from Australia have also suggested its use in diagnosing serious diseases like colon cancer & inflammatory bowel disease.
Connected Inhalers
A lifeline for asthma patients—smart inhalers have made it possible for physicians to easily track patients' symptoms, severity, causes, and treatment. It has made the life of millions of people suffering from asthma better.
The smart sensor in inhalers identifies and informs the patients/physicians about the possible causes of asthma attacks. It sends an alert on their smartphones and also notifies patients to take their medications.
Bluetooth Coagulation Testing
Bluetooth-enabled coagulation testing allows patients to monitor how quickly their blood clots.
Roche has launched a Bluetooth-enabled coagulation testing device for patients undergoing Vitamin K therapy to self-check blood coagulation. The device also sends constant reports to their physicians who can take the necessary measures when required.
Streamlining Bureaucratic Tasks
As per the report by Medscope in 2019, bureaucratic tasks like charting and paperwork were the top burnout reasons cited by physicians. And not just physicians, it is also a concern for patients who have to stand in long queues to schedule an appointment.
The latest IoT devices are trying to overcome the challenge of complex healthcare infrastructure with features to record electronic databases, track staff member activities and patient's health, monitor medical equipment, among other tasks.
These allow patients to schedule their appointments hassle-free online. IoT devices that streamline bureaucratic tasks have drastically reduced physicians burnout issues and in-house costs, making it easy to manage patients and staff members.
Research
Research work is the driving agent for innovation in healthcare. In the past few years, IoT has had a significant impact on medical research work with its ability to collect and analyze data from patients.
IoT in healthcare projects allows researchers to access an infinite amount of data on patient ailments, which otherwise could have been an expensive and time-consuming  task.
IoT analyzes, monitors, and tests this data to fetch insightful reports. IoT has thus empowered innovation in the healthcare sector by gathering and analyzing useful and reliable data for medical research.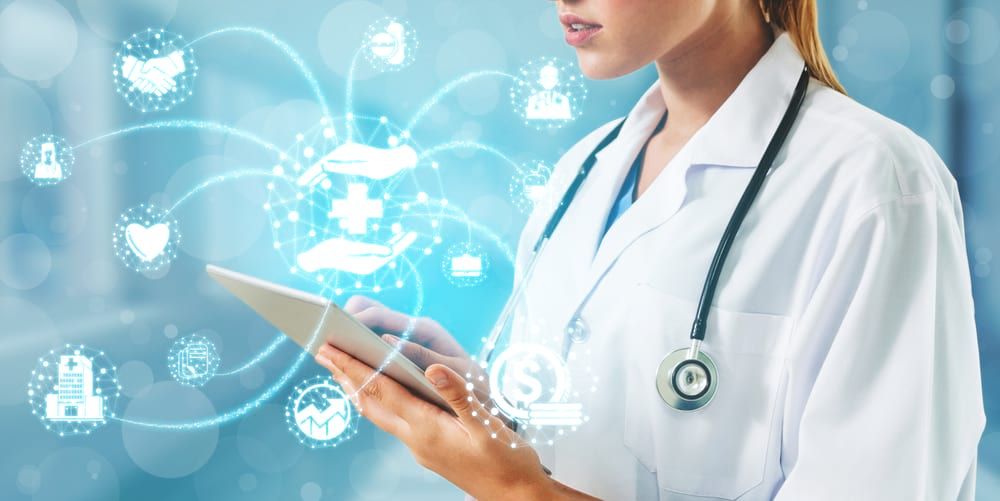 Location Tracking & Alerts
Tracking location and alert systems are important in a life-threatening medical situation. Medical IoT gathers and sends data to the care center, allowing them to regularly track patients' health remotely and address any fluctuations or concerns in a timely manner.
These systems have features such as real-time alerting, tracking, and monitoring patient's health to avoid unfortunate circumstances with proper treatment.
Benefits of IoT In Healthcare
Saves Operational Costs
IoT devices can drive down operating costs by reducing manual work and saving time for physicians and other staff members. IoT also boosts their efficiency with robust features and has the potential to improve outcomes by many folds.
Reduces Errors
Recording information the pen and paper way—or monitoring patients manually—lead to errors. It might be difficult to find the patient's history or ensure the documentation's accuracy.
Real-time data gathering and recording is a smart way to reduce medical errors and facilitate accurate treatments.
Improves Patient Experience
IoT has altered the patient's experience in medical institutes. They can now leverage IoT in healthcare applications for remote monitoring and continue their treatment at the comfort of their home.
Even at hospitals, IoT has improved the efficiency of clinical tasks, operations, and management, altogether building a better patient experience.
Accelerates Disease Diagnosis
With real-time and constant monitoring, physicians are able to diagnose the disease at an early stage. They can now take proactive measures to treat the disease and improve the outcomes.
IoT in healthcare has altered the industry at a very nascent stage. It is just the beginning of a revolution that will unfold unimaginable possibilities to improve healthcare and revenues.
However, it doesn't come without challenges. IoT-enabled devices can capture and distribute data. This triggers the security concerns of sensitive data. Large IoT in healthcare concerns are on their way to trigger the implemention of security measures to take the next big step in the industry.
Creating Your Own IoT Healthcare Application
Have a great idea for an IoT-driven healthcare application? Let's bring it to life together.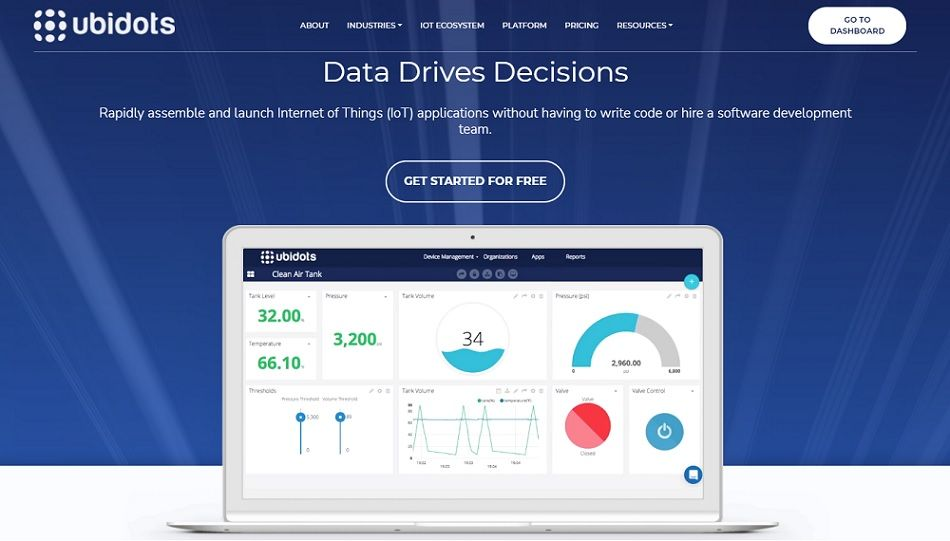 Ubidots is here to enable a data-driven future with our simple yet powerful IoT development toolkit. Join us with a free 30-days trial & tread on the path of an IoT transformation.
» FREE TRIAL: Launch Your IoT Application To Market in Less Than 30 Days with Ubidots Drag-n-Drop IoT Dashboards
Originally published 16 Nov 2021
Frequently Asked Questions
How is IoT used in healthcare?
IoT is widely used by healthcare professionals to monitor and connect with their patients proactively. It helps them in monitoring their patient's health conditions and alerts them in critical situations. It also allows them to track whether the patient is taking the right medicines at the right time for proper treatment. Healthcare administrative operations is another area that leverages IoT. Physicians can now track & manage medical equipment, staff, and patient records hassle-free.
What is the Internet of Things (IoT) in healthcare?
IoT is a network of physical devices that leverages wireless connectivity to exchange data. IoT in healthcare refers to devices such as wearables and ingestible sensors that gather data and use connectivity for its transmission. IoT-enabled medical devices—for example, X-ray machines with WiFi/Bluetooth, provide practitioners with critical data for treatment.
What are the advantages of IoT in healthcare?
IoT has the following advantages in healthcare:
Reduces operational costs by replacing unnecessary hospital visits with remote monitoring
Improves treatment as there is more transparency between the patient and physician; the physician, with the help of real-time monitoring, can make informed decisions
Speeds up the diagnosis of diseases by regular checkups and real-time monitoring of health conditions which helps in diagnosing the disease at an early stage and improving the recovery rate
Promotes proactive treatment of alarming reports from continuous remote monitoring
Facilitates efficient management of drugs and medical equipment through connected devices, reducing costs.
Reduces errors by helping physicians make informed decisions.