The Internet of Things (IoT) ecosystem has been growing throughout the past few years, and it will keep growing. A leading market research firm estimated that by 2020, there will be 10 billion connected devices for different IoT industries worldwide.
The positive impact that brought IoT solutions to the industry has been capturing the attention of industrial companies and manufacturers who aim to optimize their current processes by implementing new capabilities like remote controlling or monitoring of their supply chain processes, as well as implementing sensors directly to their machines to carry out predictive and preventive maintenance, which can save thousands – if not millions – of dollars. Nowadays, this is known as the Industrial Internet of Things (IIoT); the game-changer for the Fourth Industrial Revolution.
The relevance of the IIoT started by the Internet of Things ecosystem are the solutions that is has brought to the commercial sector. Therefore, as a first approach to this, it's important to differentiate the scope of each solution, as well as the industry where it's being applied.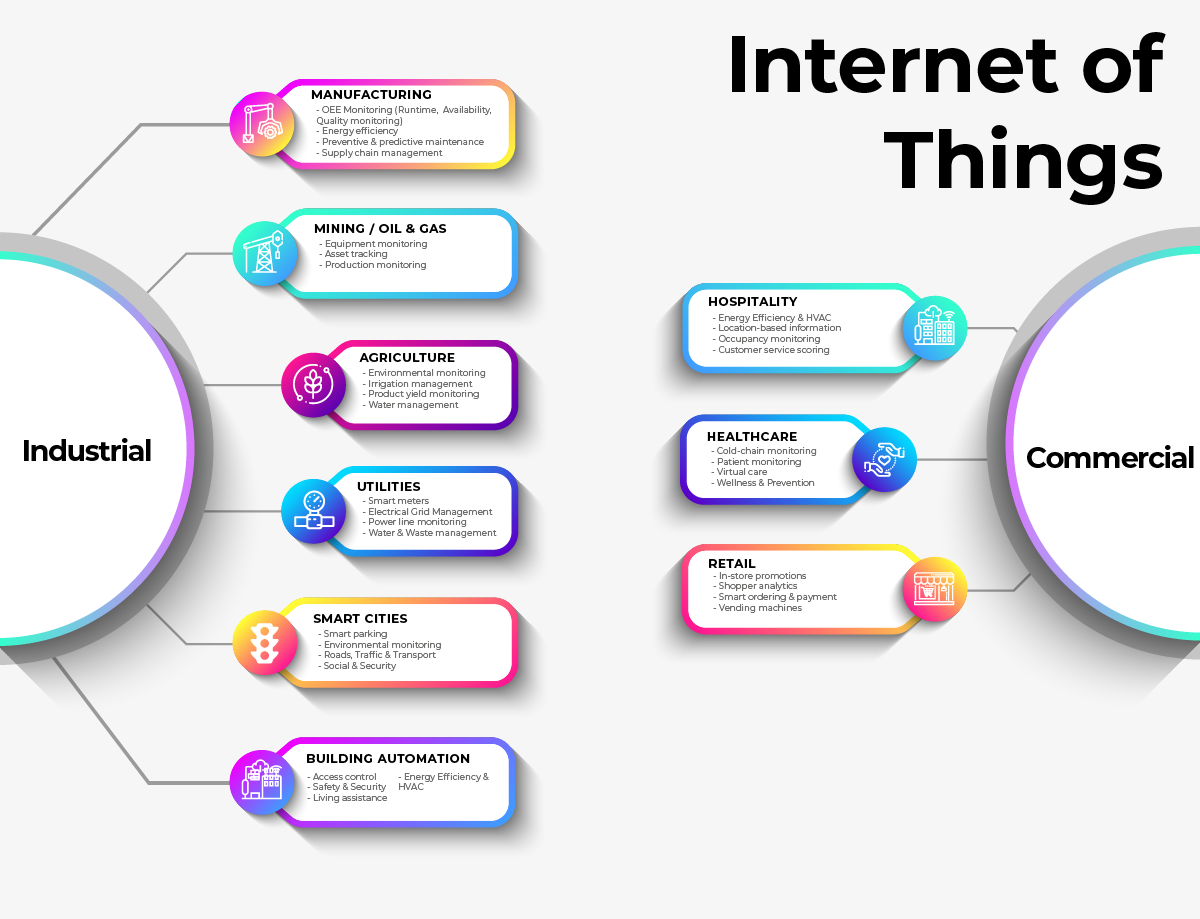 Consumer IoT
As a starting point, a consumer is someone who buys goods or services for personal use. Now, if we talk about "Consumer IoT," we're just adding the smart side.
Basically, Consumer IoT solutions are focused on individual users or families through the use of wearables, smart home applications, and personal monitoring devices. A suitable example are voice smart assistants such as Amazon's Echo, Google's Home, and Apple's HomePod; in other words, products that make our lives easier by performing tasks or services for us. Another common example are smart thermostats, which help reduce utility costs by turning the HVAC system on just when it's needed, and off when the indoor climate is in the perfect conditions for us, even if you're away from home. These devices could last many years, but they tend to be replaced with the newest versions launched with the advent of new tech generations. We can even go so far to say that this is their form of routine maintenance or routine upgrades as time passes.
The common connectivity used in this kind of solutions are Bluetooth, WiFi, and ZigBee. These technologies offer short-range communication, suitable for applications deployed in limited spaces such as houses, or small offices.
Commercial IoT
Commercial IoT targets our daily environment outside of the home (consumer IoT). There is a set of applications that can be deployed in places we frequently visit such as commercial office buildings, supermarkets, stores, hotels, healthcare facilities, or entertainment venues. The applications for these places vary from variables monitoring to environmental conditions, personal control schedule, building access, as well as connected lighting, asset tracking, and many more. These types of applications provide a better experience to guests in places like hotels and restaurants through more efficient monitoring in smart buildings and smart offices.
Commercial IoT solutions are open to any connectivity type like  Bluetooth, WiFi, ZigBee, Sigfox, LoRa, and LTE.
Industrial IoT
Unlike Consumer IoT, Industrial IoT targets existing automated industrial systems looking for dramatic improvements in productivity and efficiency. The most common sectors that come to mind could be large scale factories or manufacturing plants, but these are also known for monitoring utilities and expensive assets. Basically, we can say that we're entering a whole new era of IoT.
The existing automated industrial systems inside factories tend to be older because the systems may have been installed more than a decade ago, therefore, integrating the information from these systems to support IoT could get more complicated than commercial IoT, due to the tasks that integrators have to do carry out, manage, and adapt to the existing infrastructure.
In order to allow for a suitable and scalable solution, industrial solutions should include gateways.  Basically, these gateways can be a device or a software program that allows for the connection between the Cloud and sensors or controllers. One of the principal uses of gateways are to translate the protocols used in the manufacturing plant to the supported one to handle data with the Cloud. Aside from this, gateways are efficient avenues for data logging and processing solutions, allowing integrators to offer more user customization, as well as running user applications in order to adapt them for specific industrial processes.
The New Era of IIoT Is A Reality
As we already know, the IoT ecosystem is growing in different verticals, and IIoT grabbed the interest of companies with years of expertise in the industrial field to start developing or upgrading software and hardware products to facilitate the integration of IoT solutions to existing systems. One of these companies is PTC - Kepware, with +20 years of experience in helping businesses connect diverse automation devices and software applications. They have been recognized as an early player in IioT, thanks to one of their products, the IoT Gateway, an advanced plug-in that extends the capabilities of the KEPServerEX connectivity platform, which allows handling RESTful and MQTT requests for integration with web services in Manufacturing execution systems (MES) and other systems. This also seamlessly streamlines real-time industrial data directly into device Clouds and Big Data analytics platforms across the whole company, which ends up being quite useful in a handful of verticals that include Manufacturing, Oil & Gas, Building Automation, and Power & Utilities.
On the other hand, there are companies that offer a piece of hardware's communication (IIoT Gateway) to connect industrial devices and convert the data acquired in an IoT-friendly (JSON) format, to finally transmit the data to a Cloud platform over a variety of connectivity types such as Ethernet, WiFi, Cellular, and LoRaWAN. In case you're looking for one, we recommend you take a look at the products from RedLion, Moxa, Amplified Engineering, Siemens, and AEENON.
Summary
The IoT and IIoT ecosystem is growing and will keep growing as expected. For this reason, we have to make sure that we choose the right products and services for our solutions in order to keep the scalability and security in tact without neglecting the real needs of the industry.
To be one step further to gaining a stronger foothold on the monitor or control of your data, check out how the Ubidots IoT Platform can help you to mitigate risk and get the answers that you need to solve real problems with just a few clicks.