When we discuss the Internet of Things technology as a harbinger of the evolution of technology, we are also talking about the technical expertise and extensive scalability options that are required for building even the tiniest building blocks of design and implementation. In fact, all IoT solutions that we develop and implement are designed with the goal of keeping them up and functioning in the long run, which in turn has increased the level of knowledge and expectations that customers have with companies that produce and deliver high-end IoT solutions.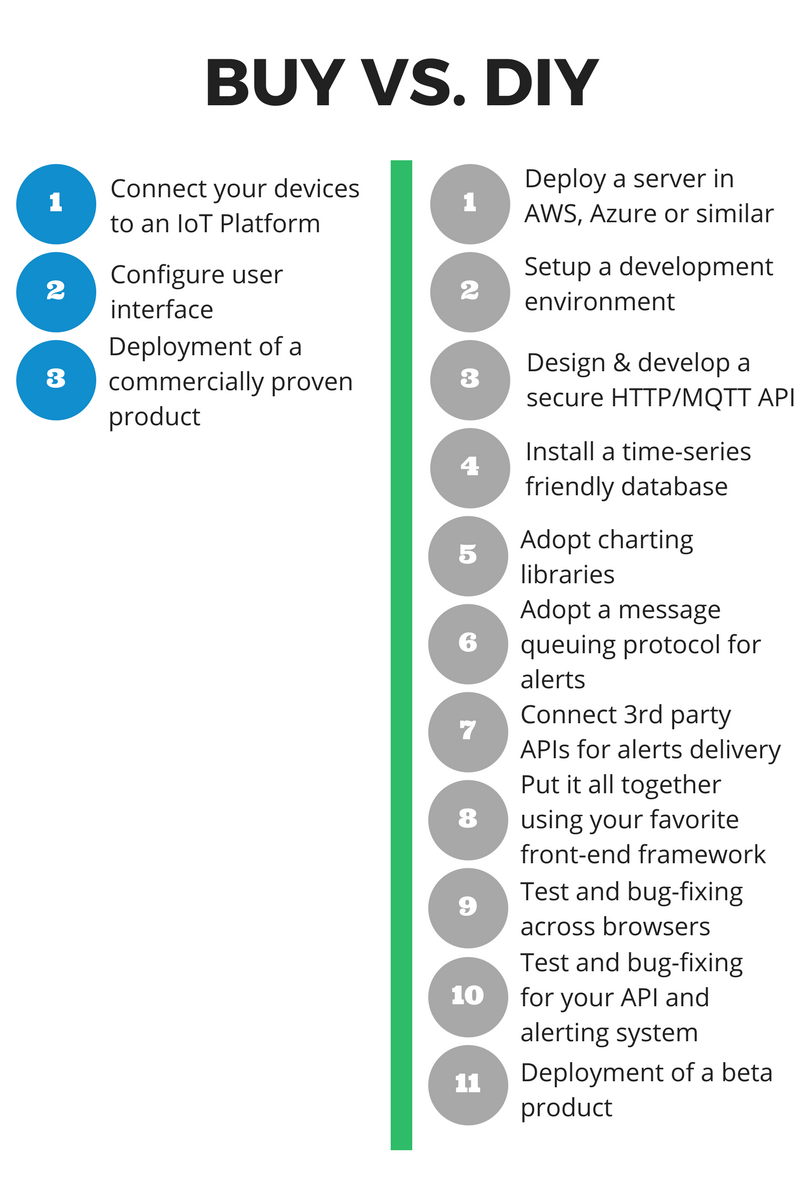 These days, end-users of IoT products have become comparatively more resourceful and they expect typically a higher quality of services. As we are already aware of, there are several easy to use and highly elaborate and feature-rich Internet of Things platforms out there which manufacturers can use for the purpose of creating IoT solutions. Now, coming back to the increasing level of expectations from the end users, the need of the hour is to use and implement more and more of these IoT platforms which not only ensure high-quality products, rather they also provide a hassle-free and systematic approach to the entire process of creating your IoT solution. Since users have become more informed regarding products being offered to them, IoT platforms are certainly a better option as compared to Do-It-Yourself (DIY) solutions of creating your very own IoT solutions. Before proceeding with our comparison between using an IoT platform vs Do-It-Yourself (DIY) solution, let us take a look at what exactly a DIY solution is and how it is different from an IoT platform.
Difference between an IoT platform and DIY solution
An IoT platform, in simple words, is an ecosystem which is already combined and put together in such a manner that it facilitates hassle-free and less time-consuming creation of IoT products and solutions. An IoT platform is an Internet of Things environment on its own, and it can be used by businesses anywhere and everywhere for creating their very own versions of IoT products, solutions, and services. On the other hand, an IoT DIY solution is when you, as a business or System Integrator, combine your thoughts, experiences, and mindsets for creating technological innovations and advancements that will help you in putting together your very own IoT solution on the world map.
The Internet of Things technology has undoubtedly paved the way for experiments and seamless innovations, however, it may not be the best place to explore the boundaries and limits of the IoT world. The Internet of Things is a very rapidly growing industry, and there are ample opportunity and scope for something new and extraordinary to be curated.
Benefits of Platform Deployment
Time to Market (TTM)
Time to Market or TTM refers to the pace at which your IoT product/ solution will reach the market. Interestingly, Time to Market is directly proportional to the time which an IoT product is taking to reach its final stage including its development cycles, acceptance tests, and surveys, etc.
Now, when using a well-established and fully-functional IoT platform, you can straightway get to the creation of your IoT solution without having to worry about other miscellaneous factors, hence comparatively shorter TTM! On the other hand, when creating your own DIY IoT solution, you will be in need of several tools which itself is a pretty tedious task to collect and assemble, ultimately leading to the derivation of the expected results.
Building your own IoT Platform can take one year of your engineering team. Apart from the labor and infrastructure cost, there's a huge hidden cost.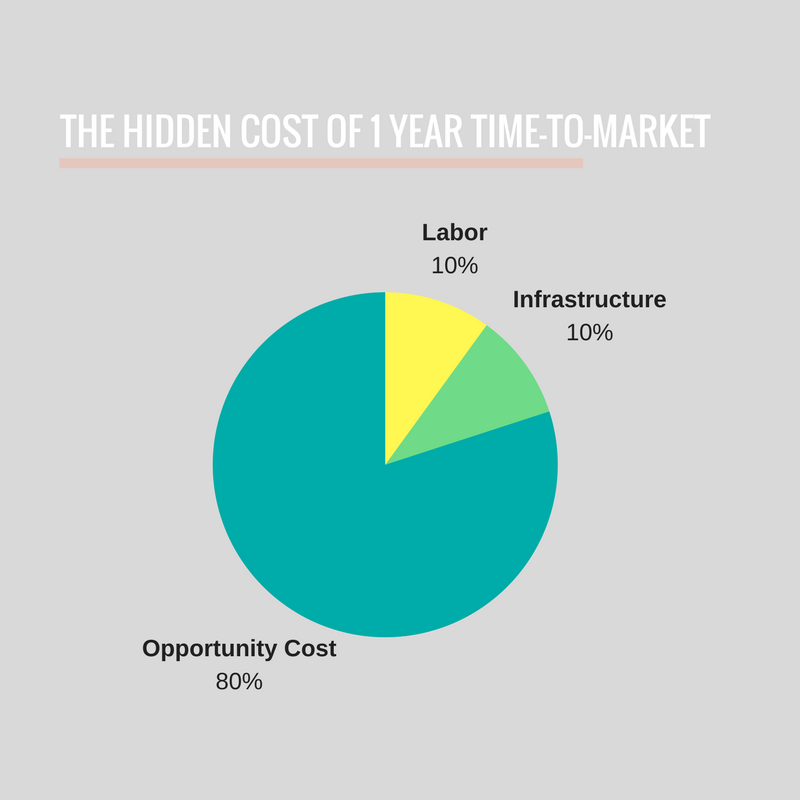 This proves that DIY IoT solutions are time-consuming and ultimately drastically increase the TTM.
Usefulness of Developmental Resources
Developmental resources consist of the costs versus opportunities. Are you more inclined towards dedicating your available developmental resources towards developing high-function IoT solution with short TTM and the use of an IoT platform or do you want to spend these precious resources in investing towards the creation of your DIY IoT solution, which of course will require hundreds of hours of coding or the expenses of platform software engineers and developers? The choice is entirely yours!
Total Cost of Ownership (TCO) Benefit
Delivering a TCO benefit that is, at the same time, economic and fundamental is crucial. Once you have manufactured and deployed your IoT solution in the market, the next question that arises is whether you have benefitted in terms of the Total Cost of Ownership. With an IoT platform, you can save on the total cost of ownership because these platforms provide constant updates and added features for advancing businesses. Conversely, using an IoT DIY solution, you will have to shell out more money and gamble on the end product based on a single or team of engineers skills and abilities.
Conclusion
Instead of focusing on building your own IoT platform, you should instead focus on improving the functionalities of your IoT application by focusing on solving the business problem, which becomes your value offer, as opposed to creating more problems designing a platform. The best resort is to partner with an established IoT platform and devote your time to managing the remaining factors involved in creating your IoT solution. This will provide you with ample time and opportunity to focus on creating your product at par with the market competition but can rollout even quicker.
To begin solving problems with the Internet of Things today, simply create an Ubidots account and effortlessly send your data to the Ubidots IoT Application Development Platform to develop, visualize, and deploy your Problem Solving Application today!
If you like this piece, please share it with your friends or leave a comment below. We want to tailor our content to those who appreciate it most, you! So please let us know how we're doing.