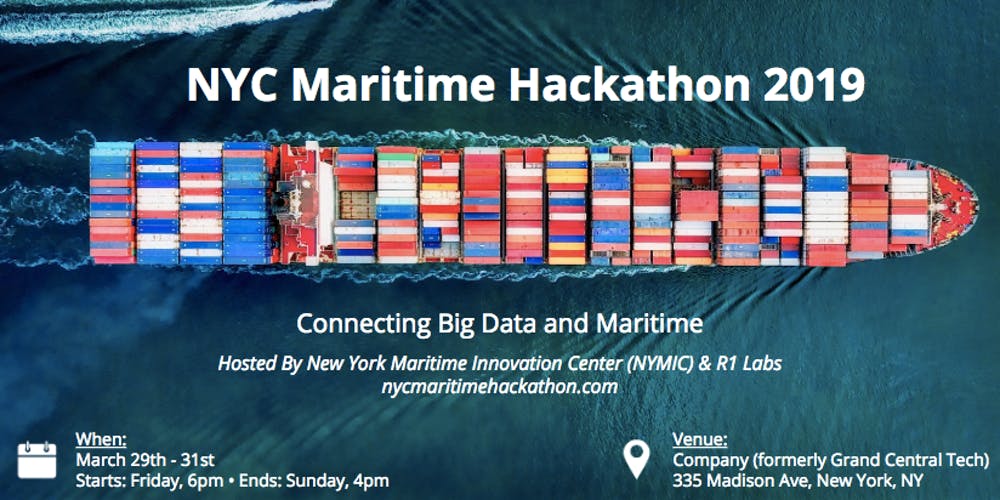 We want you to grow your business within crucial industries, and for this reason, we have the pleasure to offer participants in NYC Maritime Hackathon 2019: Connecting Big Data and Maritime complimentary Ubidots credits to help them better visualize the data sets they are working with. It's a unique, 36-hour hackathon where 100+ developers, designers, and domain experts will convene to build commercially viable solutions for the maritime industry. The hackathon, hosted by New York Maritime Innovation Center (NYMIC) and R1 Labs,  is taking place in New York City this weekend, from March 29 to 31.

The participants will have access to exclusive industry data sets allowing them to tackle challenges like:
How can machine learning and data analytics be used to optimize energy consumption, reduce emissions, and provide savings?
How can the marine transportation incorporate IoT?
Can we make shipping units smart with GPS tracking, IoT, and transceivers?
Can we use Predictive Analytics or Machine Learning to shorten the time an ocean shipment goes from origin to destination?

Winners will receive cash prizes and an opportunity to join the inaugural NYMIC Accelerator, where their projects will be brought to market-readiness.

Get your tickets now by going to the official website to learn more: http://nycmaritimehackathon.com

To attend demo day, use this link.

If you want to get involved as a mentor - apply here or if you have other questions, email events@r1labs.com.