The benefits of open source software are immense, and it's great to see so many home automation platforms offering 100% free and functional software to Internet of Things enthusiasts all across the globe.
The people behind these home automation platforms have worked hard to achieve a strong codebase that you can use to build your own solution, but is open source good enough for the purpose? Or does it fall short of its "open" goal?
Just like most other software platforms, a good solution needs an equally strong community that is willing to back it up and improve upon its initial state. That's why we've compiled a whopping 16+ open source home automation platforms that we think are most interesting in the landscape of IoT.
What is the "+" you might ask? Read until the end to learn more about a bonus platform with one of the strongest communities in home automation.
The platforms aren't listed in order of preference or market share. They are listed in an order that allows us to tell a story regarding the communities behind these platforms, and why it's so important to have a strong foundation when choosing an open source solution. We're not biased towards any of the platforms.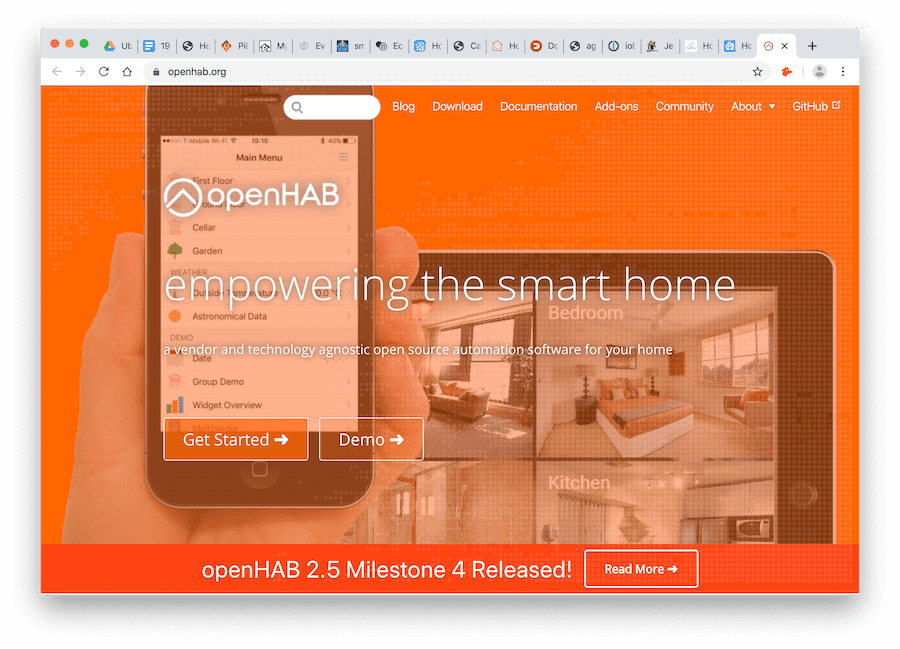 We can't start this list without mentioning openHAB, one of the strongest players in the open source community. With almost half a million posts on their forums and 33,000 members, openHAB is constantly improving upon its initial offering. The platform can integrate with over 1500 devices from the likes of Sony, Pioneer, LG, Samsung, and much more. openHAB is free-to-use software (even commercially) that can be downloaded locally on any operating system. No need for cloud servers.
Download openHAB or learn more.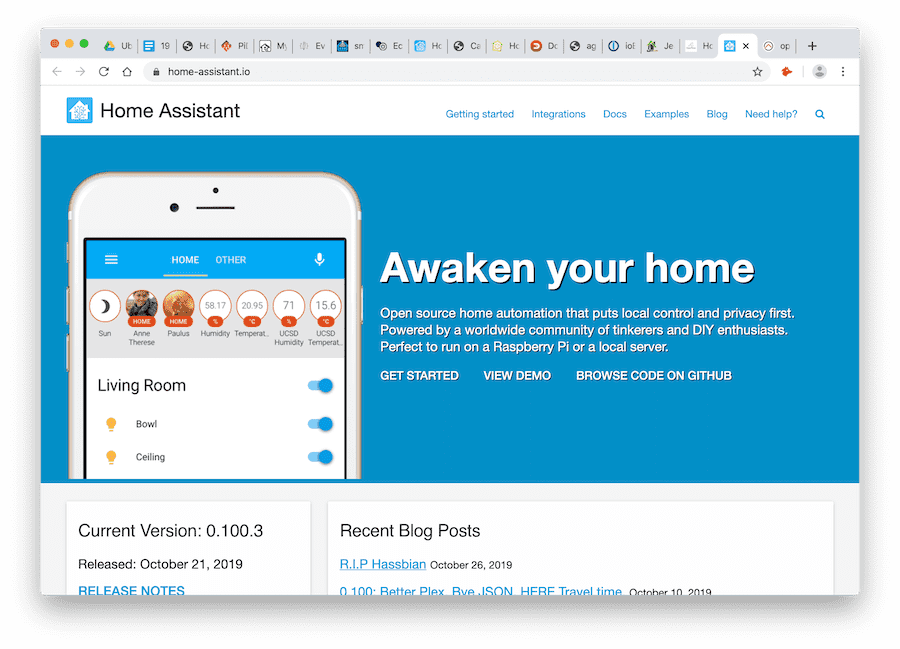 Home Assistant is another strong player in the open source home automation community, and it offers a platform that's catered to local control and privacy before anything else. In many ways, Home Assistant is comparable to openHAB in the sense that it shares a similar vision, integrating as many devices as possible into one free-to-use platform. On the developer side, Home Assistant is probably the most flexible out of all the platforms, so you might want to give it a try.
Get started with Home Assistant or visit the developer portal.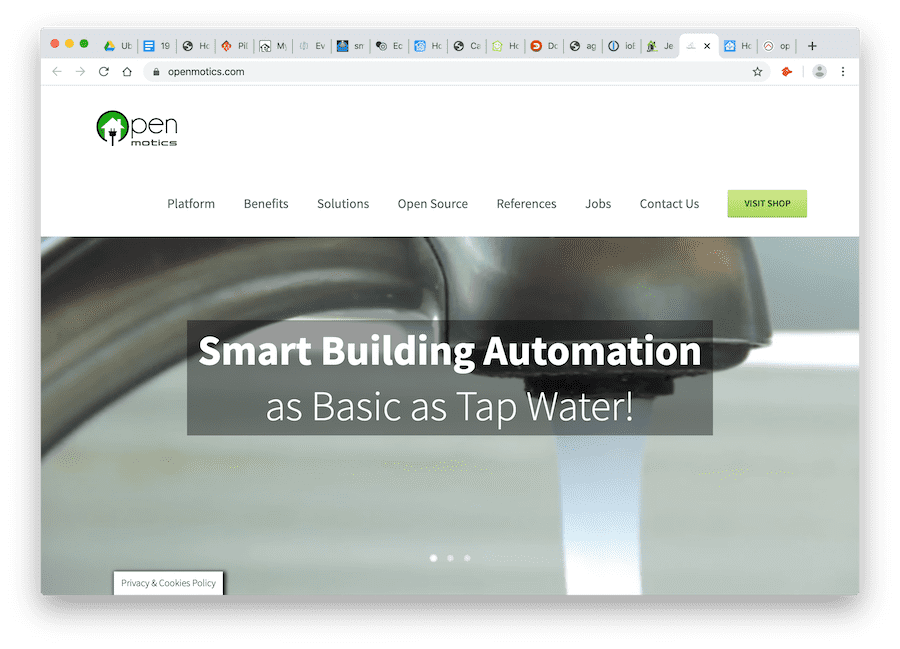 OpenMotics has a bit of a different approach to open source. In order to make their solution as smooth and practical as possible, OpenMotics offers custom modules that are built specifically with their software suite in mind. These can be bought on their online store for simplicity, but they can also be fully reproduced using the original schematics and bill of material. Sure, it's not as easy as getting your hands on an Arduino or a Raspberry Pi, but we think it's an awesome project to consider.
Learn more about OpenMotics on GitHub or visit the wiki.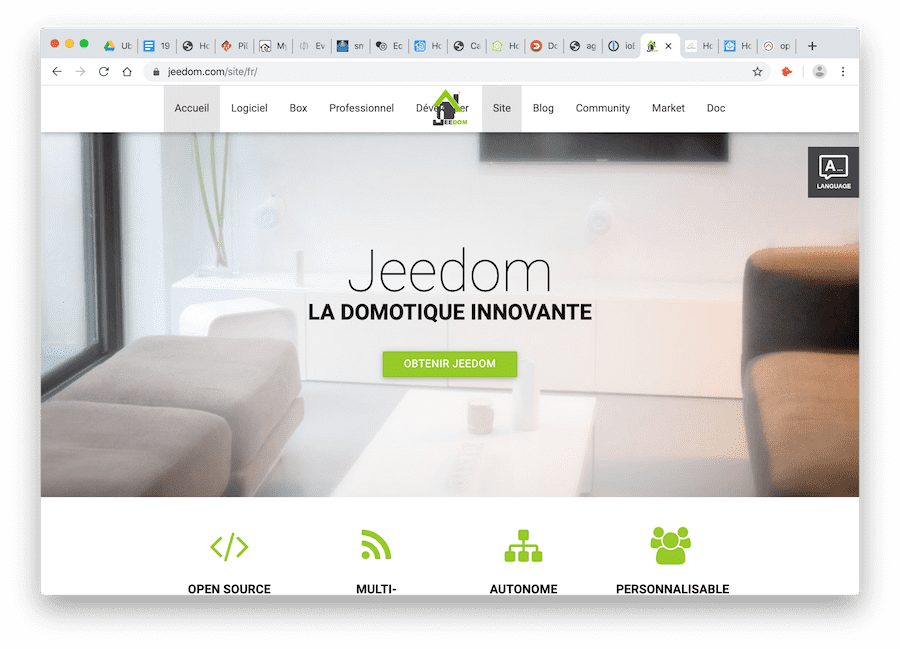 Jeedom is a great option for home automation that is unfortunately held back by language. The Jeedom community is predominantly French, and even if the website is translated into English, their community guidelines and forums are all in French. In terms of documentation, Jeedom offers many languages, including English, Spanish, and German. However, it might be a bit harder to pick up on compared to home automation platforms such as openHAB and Home Assistant.
Download Jeedom or learn more.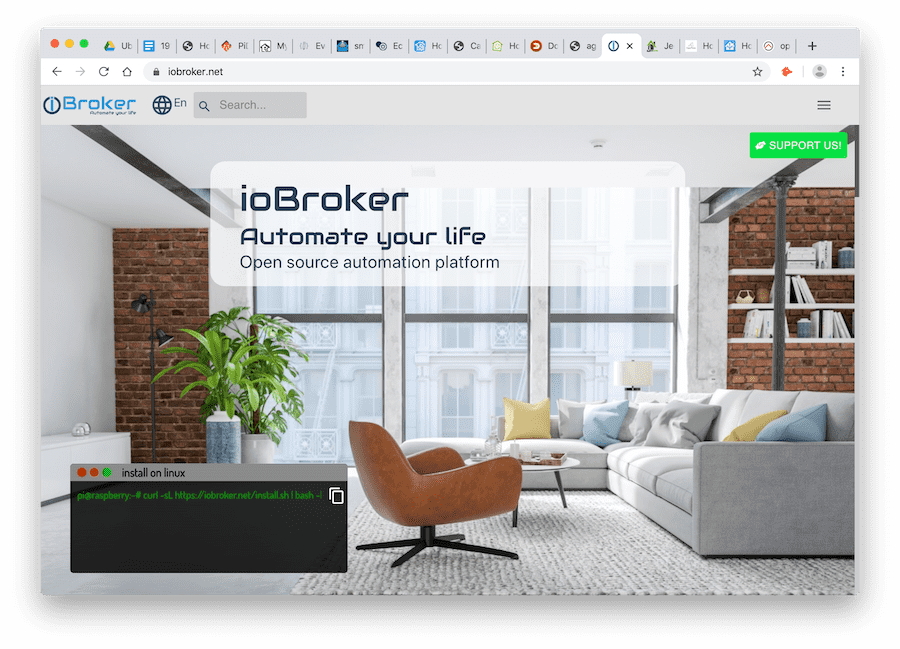 ioBroker appeared on the open source home automation spectrum at the beginning of 2017, but it went on to become one of the fastest growing communities in the game. With more than 21,000 users happy to chime in, ioBroker is a strong proposition that offers a total of around 300 integrations. That's great considering that the software is completely free to use. Why not give it a try?
Download ioBroker or read the documentation.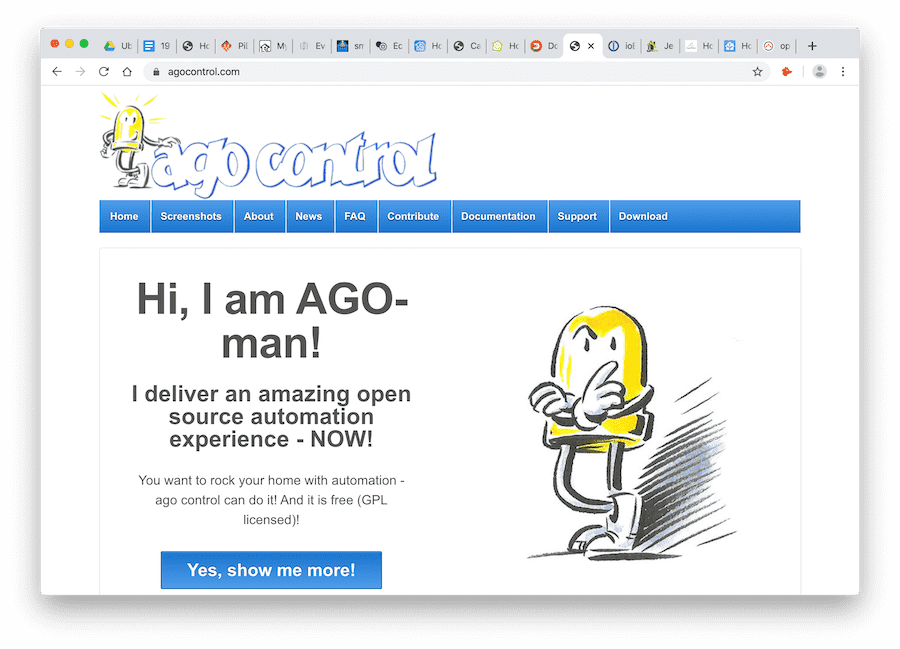 AGO Control is a neat open source dashboard that allows you to control and automate your devices faster than any other platform. Its strength lies in its simplicity. As a framework for home automation, AGO Control allows you to connect anything you want inside and outside the home. The lightweight protocol makes it easily readable both by machines and humans... Nice!
Download AGO Control or check out the gallery.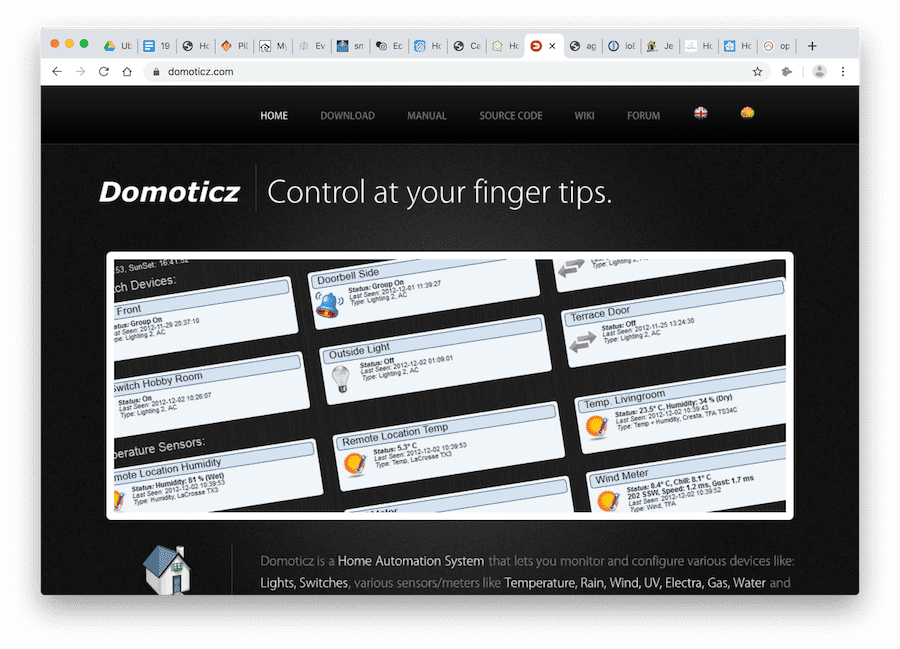 It's hard not to like Domoticz because it gives you everything you need without asking for much in return. On their website, you can find step-by-step guidance for installing and implementing the software. Even better, the community is very active! At the time of writing this article, there are plenty of posts on how to use plugins and devices. This is exactly what an open source platform like Domoticz needs, and it's the ideal support for students who are looking to learn.
Download Domoticz now, get the manual (PDF) or visit the forum.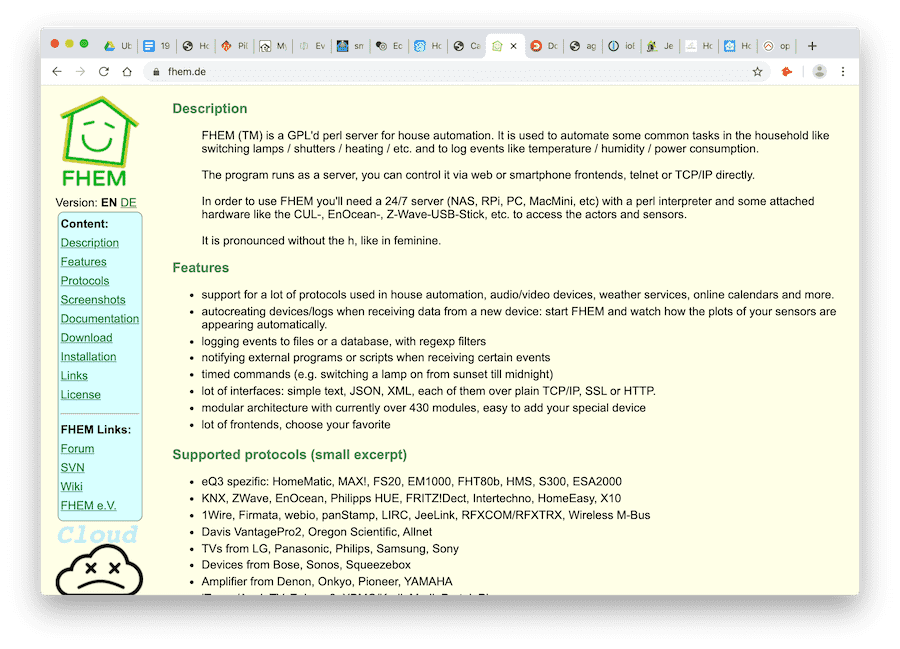 FHEM is well-known in the world of home automation. It's an open source (GPL) perl server used to automate common tasks in the house such as switching the lights on or off, regulating the heating, and more. Most of the protocols used in home automation are supported with FHEM, and the documentation is great… if you can manage to find what you're looking for. With a bit of a messy interface and some German popping out of nowhere, FHEM is still a good choice for enthusiasts.
Download FHEM or read the wiki.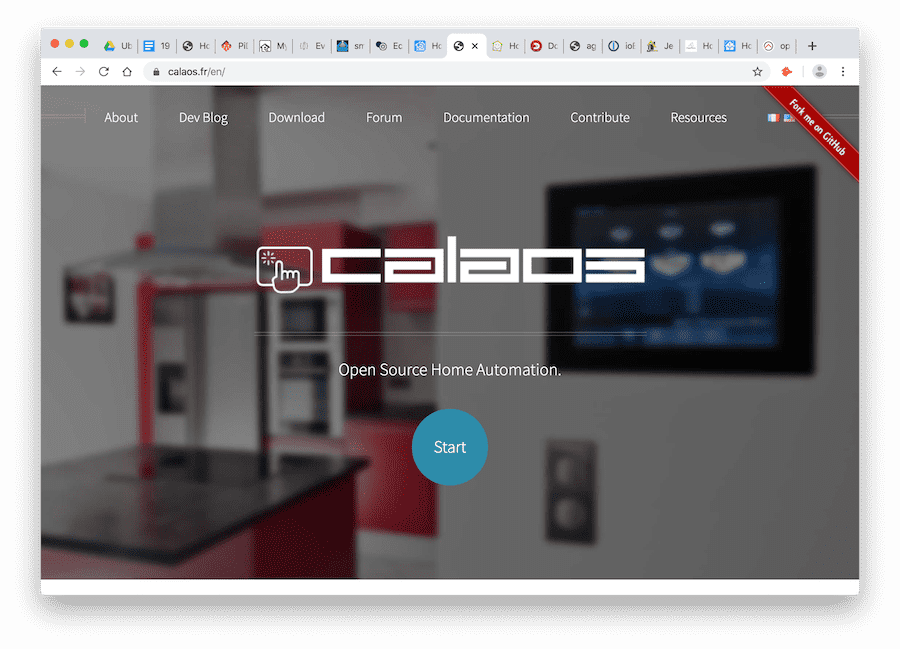 Another French player, Calaos is an open source platform for home automation with a decently sized community to back it up. The forum is not as active as the one from Domoticz, but it's good enough to learn more about the traits of the software. Calaos is interesting because it offers an entire stack of apps to be used across multiple devices: Web, Android, iOS, Linux, and more. The documentation also teaches you how to get everything set up on your own. Try it on your own!
Download Calaos or learn how to use it.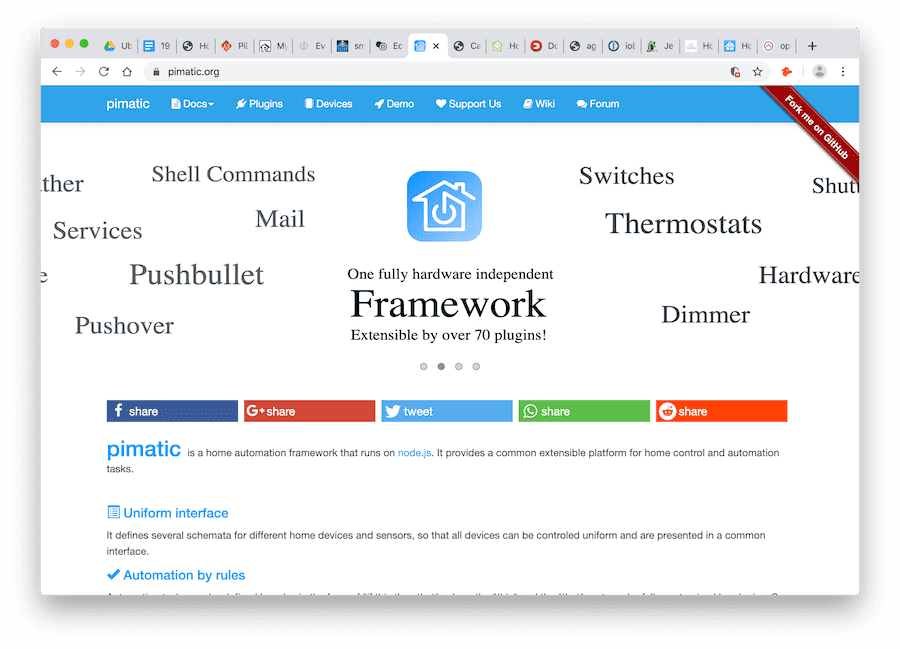 Pimatic is a hardware independent framework for home automation that can be extended with 70+ plugins. Like many other frameworks in this area, Pimatic runs on Node.js. The key focus of this framework is flexibility: it can be picked up rather quickly and "easily." Thanks to the built-in features, you can immediately automate tasks by connecting your home devices and adding conditional rules.
Install Pimatic on your system or try the demo.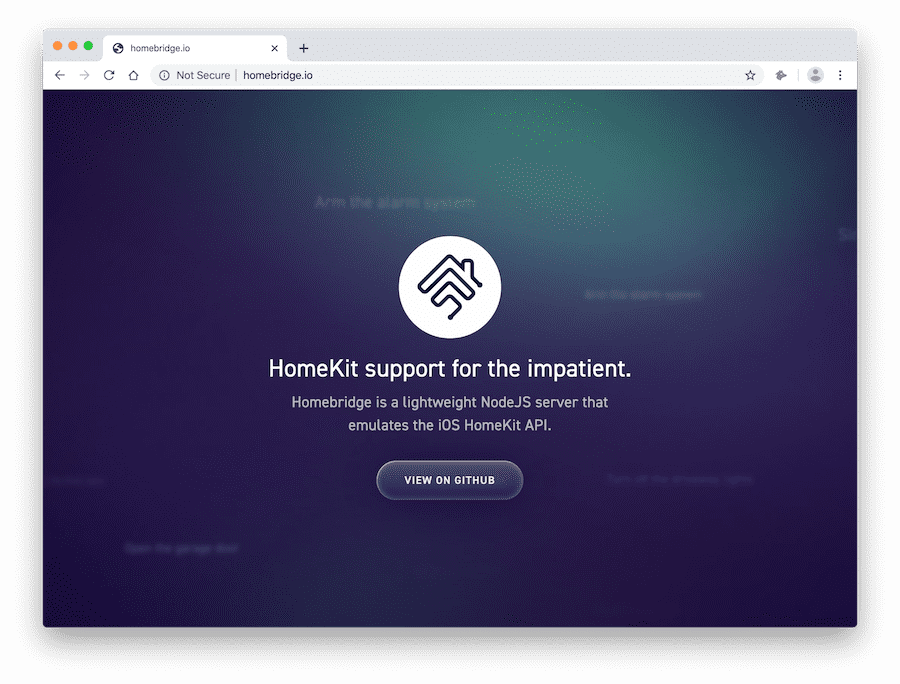 Homebridge is a modern and lightweight NodeJS server that emulates the iOS HomeKit API. This means that, once installed on your low-power machine (including the Raspberry Pi), it can service the same requests you are used to on your iOS device via Siri. The original contributors to this project thought of this because of the countless devices that couldn't connect to the Apple ecosystem, bringing the best of both home automation and open source projects together.
Check out the Homebridge plugins or visit the Github page.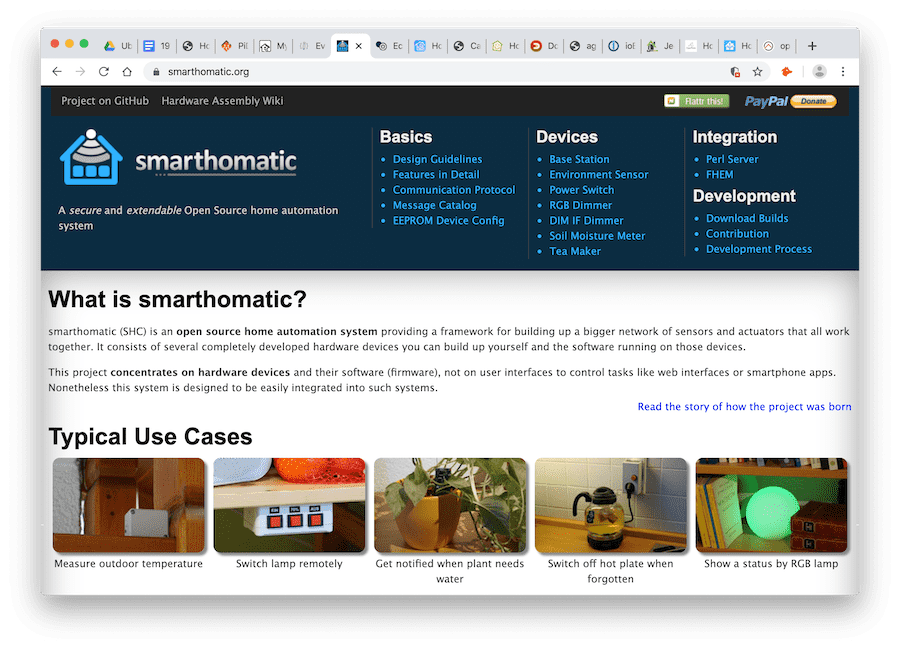 A community project. That's what Uwe Freese calls Smarthomatic. Uwe built the framework after years of working with microcontrollers in his personal and work life. Being so close to the world of home automation, he started putting many of the ideas he gathered on a daily basis together. And while it's not the most extensive platform out there, this open source solution is definitely interesting considering that it was built specifically to handle tasks for the home rather than anything else.
Download Smarthomatic or visit the GitHub page.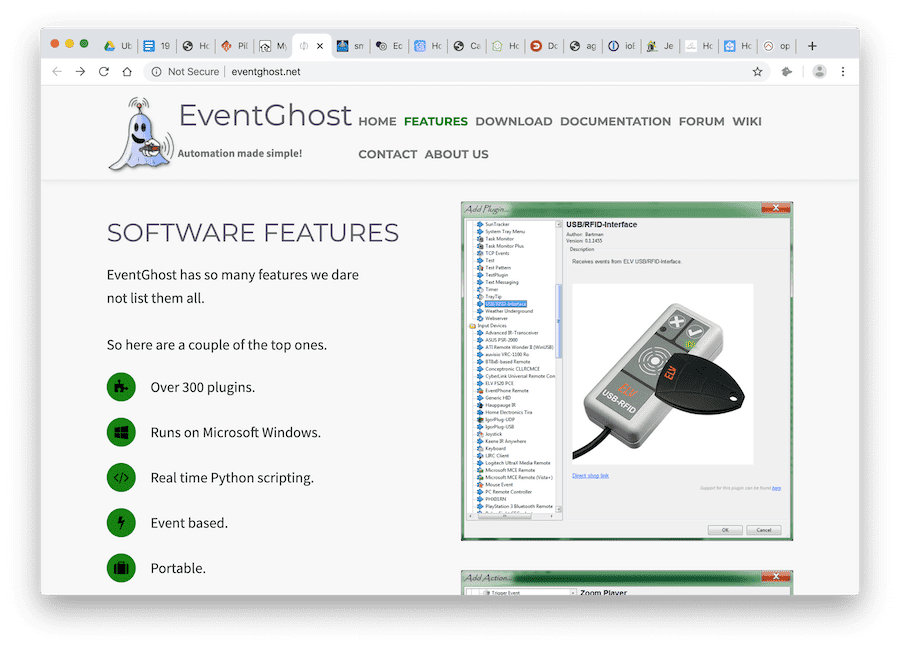 EventGhost is a popular home automation program for Windows used by many in the community to automate simple tasks. Thanks to this simple framework, you can create so-called sets of tasks, sort of like automation paths that your devices go through. Want to open your garage door with an Xbox controller? Go right ahead. We were very surprised to see how engaged the community really is.
Download EventGhost (.exe file download) or visit the forum.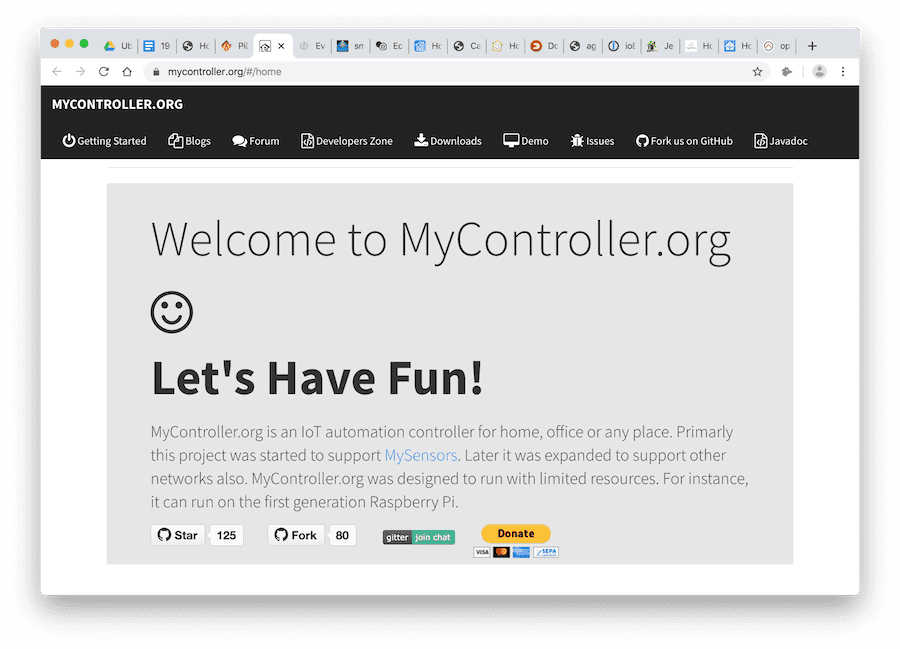 Designed to run on limited resources (first generation Raspberry Pi and other low-performance boards), MyController is an open source server that allows you to control home or office devices. Being so lightweight, MyController can fit pretty much on any device, and it's a flexible solution for hackers. Since the platform is Java-based, you can only run the server on operating systems that support it. Unfortunately, both the functionality and the community are quite stale.
Download MyController or visit the forum.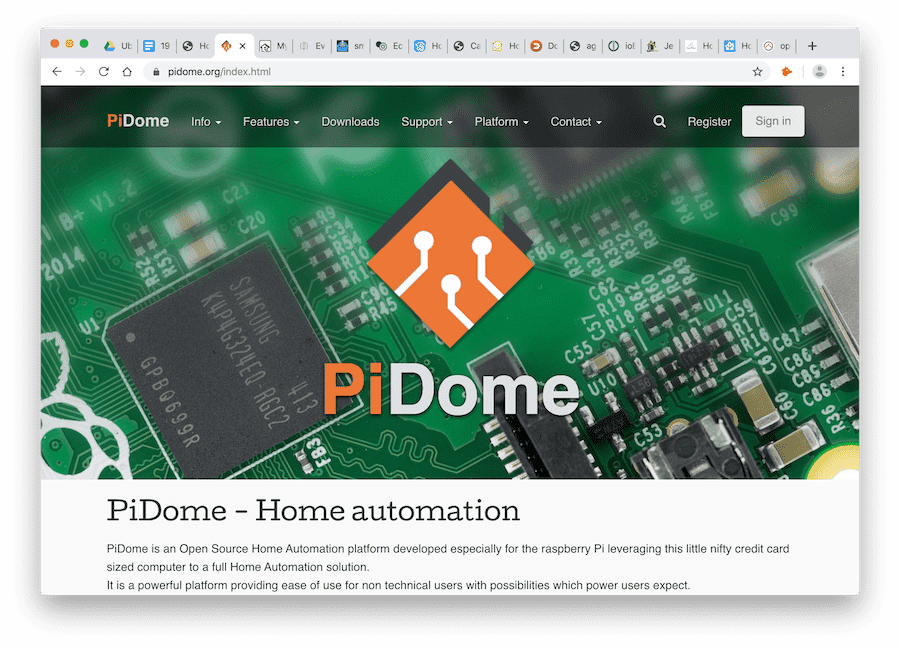 As the name might suggest, PiDome is home automation software designed specifically for the Raspberry Pi. The platform is a good mix between advanced features for power users and a beginner-style dashboard that helps those unfamiliar with home automation in getting used to the various concepts. PiDome is currently being rewritten, and the current version is a bit outdated.
Download PiDome or see the interface.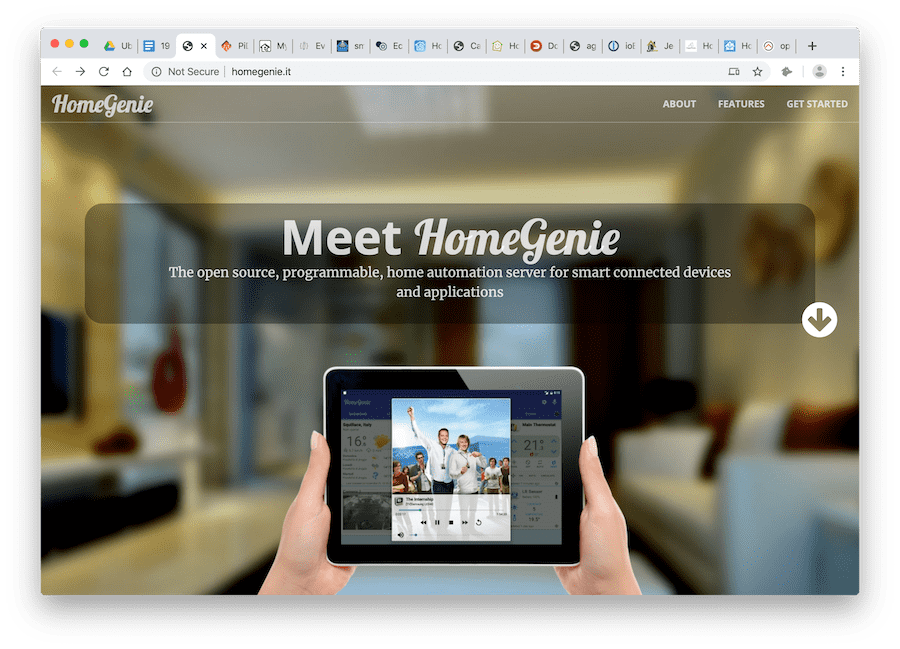 The landscape of home automation servers is quite vast. HomeGenie is another open source platform claiming to offer one of the best experiences in the field. With a full, web-based dashboard, and a few integrations to work with, HomeGenie is definitely an interesting proposition. But does it have a strong enough community to support it? Unfortunately, it doesn't seem like it. There are no forums or places where users can gather and share their knowledge about the software package.
Get started with HomeGenie or visit the GitHub page.
We've omitted some platforms from this list because they were either outdated or they didn't fit the purpose of this article (open source communities and support). If you're interested in visiting these platforms, feel free to do so using the following links: OpenNetHome, MajorDomo, Gladys, MisterHouse, LinuxMCE, Pytomation, Eclipse Smarthome.
Your Bonus Home Automation Platform
Congrats, you made it this far! Now that you have a full understanding of the scope and breadth of home automation, we have a special treat for you. Remember when we said there's a platform with one of the strongest communities in home automation? That's right, we weren't joking about that.
Meet Ubidots, a drag-n-drop IoT application development platform for those building the connected future. Designed for the Industrial IoT, Ubidots also features a free version for personal use—Ubidots STEM—which happens to be a great fit for home automation projects. Ubidots has one of the largest DIY communities in IoT, and best of all, you can benefit from hundreds of sample projects posted online.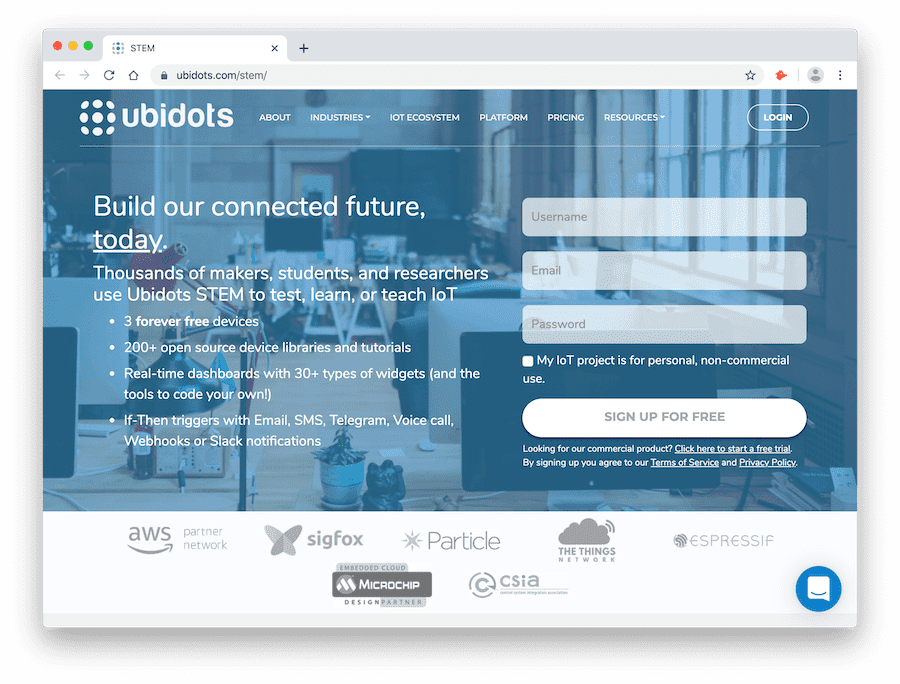 Create a free account and start building your own home automation app! Then, head on over to our community forum and keep in touch with like-minded IoT enthusiasts.
If you enjoyed our list and learned something new about the world of home automation and open source platforms, don't forget to share the post and spread the word. The world of IoT is growing rapidly, and we have a lot of content coming up, so stay tuned for more. Until then, happy tinkering!