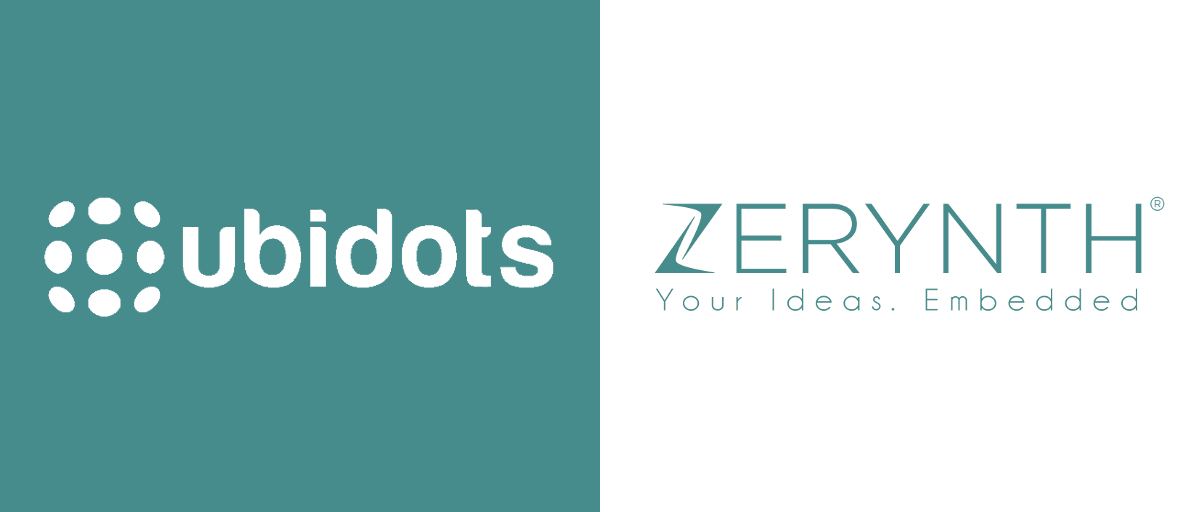 Ubidots and Zerynth partner embedded solutions with data analytics, and visualizations for your IoT applications.
Ubidots is pleased to announce its technology partnership with Zerynth, providers of a suite of professional development tools that support Python or hybrid C/Python firmware development for 32-bit microcontrollers and the most common development boards: ESP32 and ESP8266, Arduino DUE and MKR1000, ST Nucleo, Particle Photon and Electron, Flip&Click, Quail, and more. Zerynth was created to simplify the access to the embedded world, and with the Ubidots-Zerynth integration, firmware developers can now connect their designs to the cloud in just a few lines of Python.
Not just another programming library for Arduino, Zerynth was designed for rapid integration with sensors and actuators and simplifies the development of embedded and IoT applications for non-embedded engineers. Mixing the ingredients of Zerynth Studio IDE, virtual machines, and advanced device manager, with the end-user application enablement of Ubidots, this partnership allows developers to upload and control microcontrollers over-the-air while organizing, computing, and visualizing insights in end-user applications. Bring your microcontrollers to life with Python instead of C with the Zerynth Studio IDE and scale your connected product to thousands of units without worrying about firmware management, versioning, and provisioning.
Learn more about Ubidots & Zerynth
Ubidots is an Internet of Things (IoT) Application Enablement Platform that empowers businesses to build IoT applications that turn sensor data into actionable insights. Hiring an engineering team to develop an IoT application that both functions and looks great is costly in both time and money, so we did it for you. Ubidots exists as an efficient and economical resource to integrate the power of the IoT into your business or research.
Zerynth is a suite of professional development tools that supports Python or hybrid C/Python firmware development for 32-bit microcontrollers. Write, uplink, test, and scale your IoT embedded solutions with a mix of Zerynth studio IDE, device management with over-the-air firmware updates, and a virtual machine test pool to push your theoretical project to its limits before the world does. Headquarters in Pisa, Italy, and a global sales team, Zerynth is ready to help connect your microcontrollers. Get in touch.
Get started today…
Learn to program your device in Python using Zerynth and visualize your data with Ubidots with only a couple lines of code using this simple tutorial.