What makes a city become a smart city? Most cities provide many public services: water, gas, electricity, public transportation, etc. Appropriate management of public services drives cities towards sustainability and improves citizens' quality of life. However, due to fast urban population growth, meeting these goals is a true challenge. Consequently, it is necessary to optimize the way cities manage and provide public services in order to guarantee quality service delivery whilst avoiding resource waste.
Smart cities integrate information and communication technologies to manage services efficiently and intelligently. But what is needed to build smarter cities? First, it's important to target services that can be optimized. Then, these services should be monitored and analyzed to discover what improvements could be made. The Internet of Things (IoT) can enable this by embedding sensors into these services'processes,  and monitoring key variables that have an impact on their quality.
IoT systems also enable interactions with the collected information through powerful and handy tools: IoT platforms. Besides data storage, these platforms allow city managers to create custom applications to visualize, analyze, and process the data. They also enable the configuration of alerts and perform actions based on different variables' behavior. IoT systems provide an intuitive, secure, fast, and economic way to make cities smarter. As a plus, IoT solutions have the flexibility and scalability required to adapt to the particular needs of cities. If you want to learn more about IoT systems and platforms, please refer to our article: How to choose an IoT platform.
The impact of smart cities isn't just focused on improving city services. In addition to enhancing city infrastructure, performance, and management, making a city smarter directly benefits its population. The study "Smart Cities – What's in It for Citizens?" published in 2018 by the Intel Newsroom shows the impact of smart cities on citizens' lives. According to this study, carried out by Juniper Research and sponsored by Intel, it's estimated that smart cities can return 125 hours to each resident every year.
Based on the findings from this study, Juniper Research ranked the 20 most important smart cities according to their performance in four main areas: mobility, healthcare, public safety, and productivity. Singapore leads the list with the highest scores in all the measured areas; in the second place stands London, followed by New York, San Francisco, and Chicago.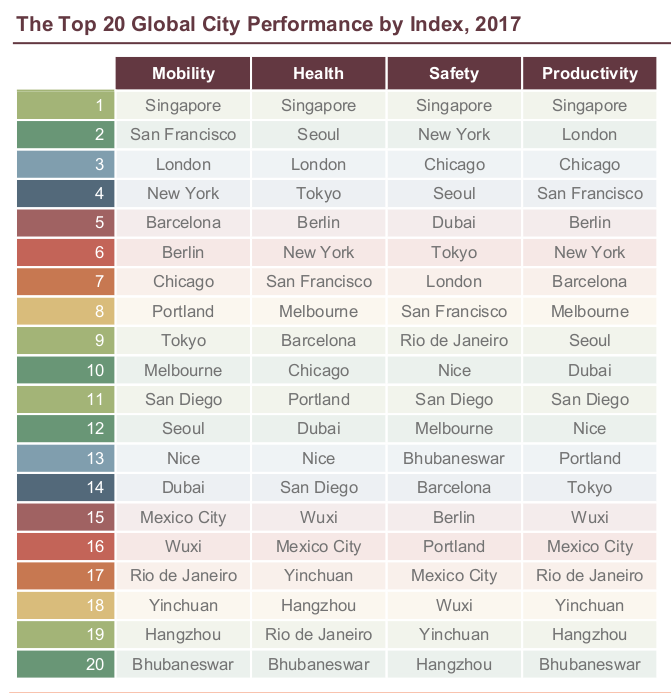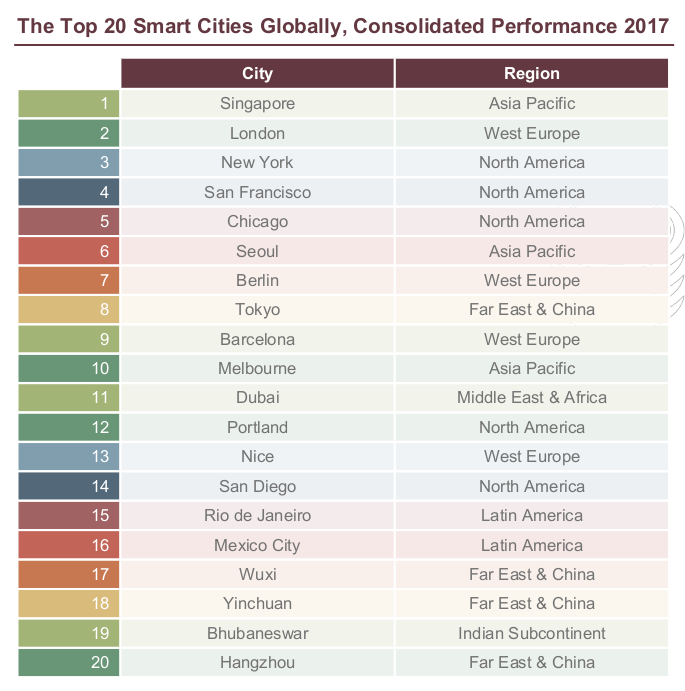 Images taken from the study documentation.
In order to understand and visualize how smart cities are becoming a reality and how they're changing the way we live, let's see some of the improvements already implemented in the three smartest cities (according to the Juniper Research Study).
Singapore: In connectivity, Singapore has a mobile penetration rate of 150%, meaning the number of SIM cards or mobile phone numbers (not devices) is higher than the total population. Regarding security, Singapore uses smart video surveillance to detect criminal activity. Singapore has also enhanced mobility by applying smart traffic solutions in conjunction with strong policies related to car acquisition, decreasing the number of cars in the streets. Singapore's Tuas terminal is expected to be one of the largest and most technologically-advanced deepwater ports in the world; it will be fully completed by 2040. Also, Singapore openly shares government data with the public, which encourages the community to co-create innovative solutions with the government. To learn more about Singapore's smart advances, watch the video "Building a Future-Ready Singapore" on the official YouTube channel of the Singapore Government.
London: As an Open Data pioneer, London launched the London Data Store in 2010. Thanks to that initiative, the Citymapper app was released as a mobility solution to provide real-time information about transportation, traffic, and inefficient public transport routes. In addition, Transport for London (TfL) popularized the use of contactless payments on transport networks. The Energy for Londoners program, through initiatives like FlexLondon, encourages the commercialization of new digital technologies and smarter ways to supply energy. The objective of FlexLondon is to reduce energy production from high-carbon sources by storing energy produced by renewable sources when they are abundant. London's government also provides public information about advances and projects related to their development as a smart city. All this information can be found on the London government website in the Smart London section.
New York: This city has been working hard to improve public safety. New York pioneered statistical policing by registering the time and location of crimes, allowing the police force to develop strategies to improve security. Nowadays, New York is testing a predictive crime software solution called HunchLab. In communications, LinkNYC is a project already changing how New York and its population are connected. LinkNYC is a free-to-use communication network that seeks to replace payphones with "Links"—smart points installed throughout the city that provide "high-speed Wi-Fi, phone calls to anywhere in the U.S., device charging, a touch screen tablet for access to city services, maps and directions, and a 911 Emergency Call button," as described in detail on their website. Regarding mobility, HubCab is a project that collects data about taxi services in New York to make taxi services more efficient and show the possibilities of the "taxi shareability" concept. To learn more about the HubCab initiative in New York, please refer to the HubCab official website.
These innovations show how smart technology could help solve problems in our own cities, providing strong evidence for the value of building smart cities. Certainly, each city is unique and will evolve differently depending on its needs and culture, but the reality is that smart cities are the future. Are you playing a role at creating this data-driven future? As more connectivity and monitoring options emerge, the importance of IoT as an enabler for Smart Cities will continue to grow.