Put 10 makers in a room and ask them to agree on which Internet of Things platform is best. Sounds like an easy conversation, right? According to a recent survey, perhaps not.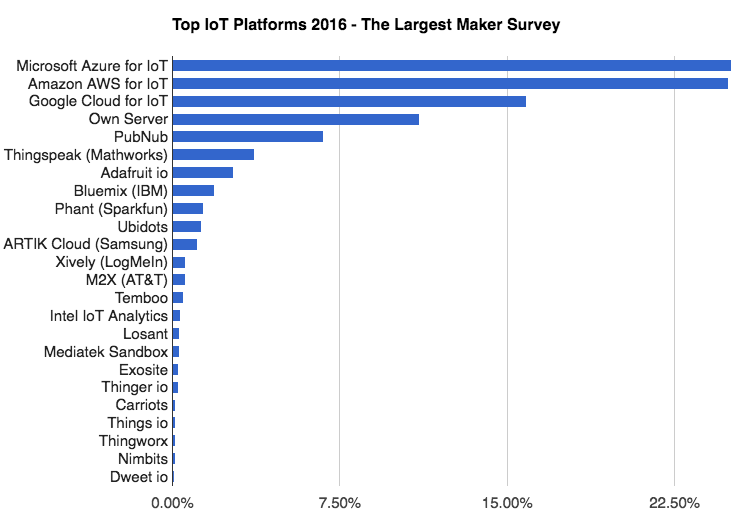 Ubidots analyzed the results of a survey produced by hardware community Hackster to identify which IoT platforms makers and IoT developers prefer. The findings revealed that the group remains split in their picks.
Big names in tech lead the way. Microsoft Azure for IoT and Amazon AWS for IoT were named by about a quarter of respondents each, followed by Google Cloud for IoT at about 15%. 11% of the respondents still prefer not to use an IoT platform and build their own database and application within their own cloud server.
After those, the opinions were quite mixed. PubNub, ThingSpeak, Adafruit IO, IBM's Bluemix, Phant and Ubidots were among the top platforms named. Ubidots was the 10 th most popular platform.
It is a good thing that there is no dominant IoT platform in the maker world. Diversity appeals to the open and decentralized nature at the core of the Internet of Things. The real challenge for IoT providers like us is not the competition from others — it is convincing developers and product managers to enlist a platform at all instead of devoting valuable time building one on their own. We're all rowing in the same direction.
Methodology
The Hackster survey collected 3,319 responses across 104 countries from April 12 to June 18, 2016. The project was undertaken in collaboration with 25 of the world's top technology companies, and the complete results were released soon after.
A section of the survey asked respondents about their favorite cloud service. However, the answers pointed to mixed types of providers, including any service that can interact with hardware devices at all; from consumer-oriented services like Amazon's Alexa, to enterprise IoT platforms like ThingWorx. Among all those in the mix, we characterized five categories of cloud platforms and only tabulated the results for IoT platforms. Other cloud categories included:
End-consumer services like Amazon's Alexa and IFTTT.
Infrastructure-as-a-Service (IaaS) clouds like AWS, Google Cloud, Azure, DigitalOcean and IBM's BlueMix.
Hardware-specific clouds like Particle Cloud and Onion Omega Cloud, which allow developers to manage remote devices by performing functions like over-the-air programming, remote reboot, battery and signal levels monitoring and integrations with IoT cloud platforms for the application layer.
Mobile app builders for IoT prototypes like Blynk and MyDevices.
Interested in finding out more? Find the IoT platforms results tabulated by Ubidots here, or download the full Hackster survey here.
To begin solving problems with the Internet of Things today, simply create an Ubidots account and effortlessly send your data to the Ubidots IoT Application Development Platform to develop, visualize, and deploy your Problem Solving Application today!