Ubidots and mcThings are proud to announce a new relationship designed to provide IoT businesses and tinkerers with a complete IoT experience. The Internet of Things (IoT) is a complex ecosystem to navigate and Ubidots and mcThings look to make this easier for all IoT innovators with this start to finish sensor-information partnership. All IoT solutions require 1) Hardware, 2) Connectivity, 3) Time-series backend or Cloud, and 4) Application Enablement Platform. This partnership combines the devices and connectivity of mcThings with the cloud and application enablement platform of Ubidots; a complete IoT solution.
More about Ubidots & McThings
Ubidots is an Application Enablement Platform that allows developers and System Integrators to select their desired sensor hardware and utilize Ubidots cloud to rapidly configure and offer end-user, business-grade IoT applications.
McThings is an affordable hardware enterprise designed to provide sensors and supplementary components for IoT solutions. McThings's leading product, the mc-Gateway is a powerful WiFi bridge for thousands of mc-Modules which sense and relay inputs through the mc-Gateway to the Ubidots cloud. Thousands of mc-Modules can be deployed with a single mc-Gateway allowing for an economic solution to large-scale hardware deployment within an IoT solution.
Ubidots welcomes mcThings to its compatible IoT device family, and firmly believes the extended range and battery life technologies of mcThings devices will open doors for large-scale Industrial IoT projects. Click on the image below to learn how to connect your mcThings devices to Ubidots.<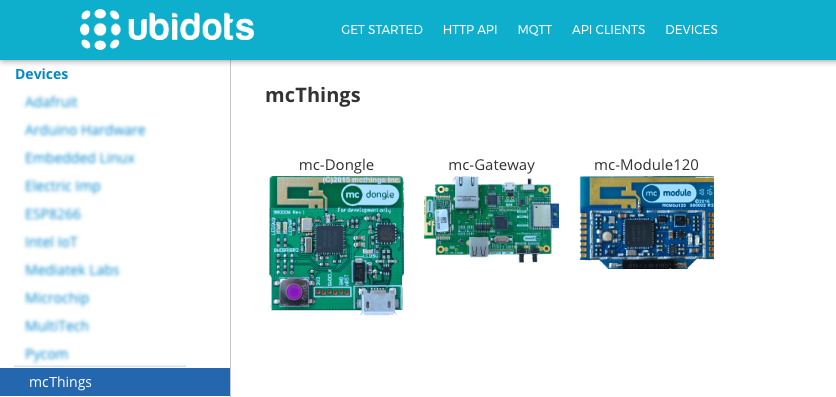 Kits
The mc-Gateway and mc-Modules kit allow innovators to grow from the bottom up; starting with information and ending with efficiency. With the mcGateway kit, one gains hardware and connectivity. Coupling these 2 key building blocks with the time-series backend or cloud provided by Ubidots, users can interpret data and metrics through a fully customizable dashboard provided by Ubidots app. This synergy between devices and dashboards has culminated into a complete IoT solution for those looking to invest in IoT solutions.