June 12th, 2018 – Ubidots is pleased to announce their recent hardware partnership with FPGA hardware masters Alorium Technology to provide fully customizable end-to-end IoT solutions. Innovators of the Arduino-compatible XLR8 FPGA-based development board, Alorium offers hardware that can now be easily connected to Ubidots to deploy your private business monitoring and optimization applications quicker than ever.
A unique brand with the mission of providing customers with FPGA-based hardware acceleration and offload for the IoT, Alorium Technology's hardware is a perfect complement to the ease-of-use and rapid development that Ubidots epitomizes. With the Ubidots-Alorium partnership, you can easily develop, control, and automate any aspect of your business.
Alorium's boards are compact and powerful. At just 0.7 x 1.7 inches, the popular Snō FPGA module is perfectly engineered for product integration. Also available with the same powerful punch but in the well-known Arduino Uno form factor is the XLR8 board.
XLR8 and Snō integrate an AVR compatible microcontroller into the FPGA and can improve overall application speed with the enhanced performance made possible through tightly integrated, function-specific FPGA hardware modules called Xcelerator Blocks.
Using Alorium's Xcelerator Blocksto optimize hardware implementations, a developer can bypass pesky Arduino performance bottlenecks for multiple applications that include:
Mixing the hardware flexibility and usability of Alorium's products with the with application development simplicity of Ubidots cloud-software, engineers can quickly and effortlessly collect, analyze, and visualize data to deploy production-ready IoT applications.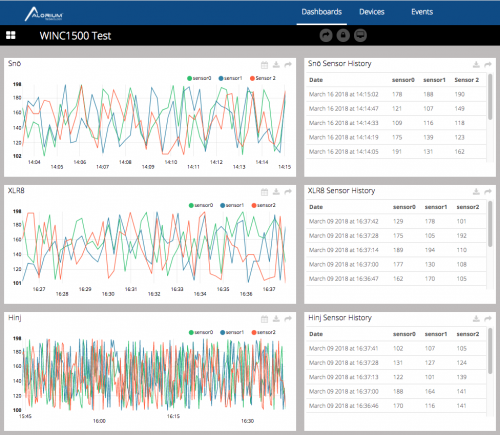 Learn more about Ubidots & Alorium Technology
Ubidots is an Internet of Things (IoT) Application Enablement Platform that empowers businesses to build IoT applications that turn sensor data into actionable insights. Hiring an engineering team to develop an IoT application that both functions and looks great is costly in both time and money, so we did it for you. Ubidots exists as an efficient and economical resource to integrate the power of the IoT into your business or research.
Alorium Technology provides FPGA-based embedded computing platforms for advanced makers, technology developers, and the Industrial IoT. By pairing Arduino compatibility with FPGA performance, customers can utilize the vast Arduino ecosystem while easily taking advantage of the increased performance, speed, and precision that FPGAs provide. Alorium offers products and solutions that help users rapidly create a strong initial prototype and support final production integration.
Get started today!
Purchase one of Alorium Technology's boards today and visualize your device and sensor data in minutes with these simple device connection tutorials: