Ubidots' app builder and Hologram.io's cellular network are combining forces to bring you a complete IoT development toolkit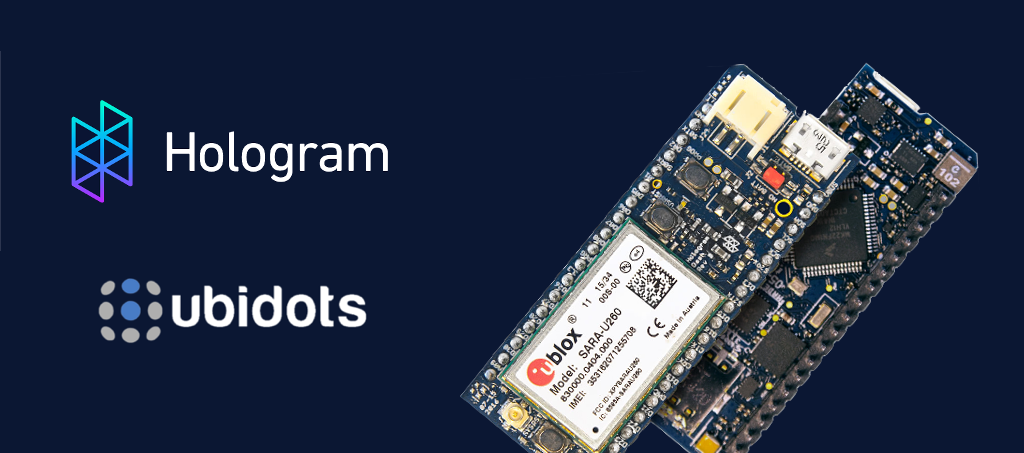 Dear tinkerers, we've got more free tools to add to your toolkit. For your next IoT project, you can send and receive data through Hologram's global cellular connectivity—and easily set up custom visualizations through Ubidots' application builder. For free!
Cellular infrastructure has been slow to accommodate IoT—making it a headache to get your IoT devices up and running on cellular networks. Hologram.io, a secure global cellular network, and Ubidots, an IoT enablement platform, are working to change that.
Last week, Hologram.io, announced their new Developer Plan, which offers tinkerers 1MB of free data, a free SIM card (including 2G, 3G, and 4G connectivity), and easy access to Hologram's software-defined cellular network for IoT, covering 90% of the populated world. Ubidots is proud to announce a new partnership with Hologram, so you can now take advantage of our free app-builder, visualizations, and alerts—using the smartest LTE connectivity out there.
All IoT solutions require: 1) Hardware, 2) Connectivity, 3) Backend services, and 4) Application development. The new partnership brings you all 4 of these components— providing a complete toolkit to build IoT solutions in only a few hours.
Hologram and Ubidots share the philosophy that the best way the push the industry forward is by empowering developers and innovators with free tools for development, collaboration and idea exchange—so you can push technologies in the directions you care about. Ubidots welcomes Hologram to its list of IoT industry partners and friends and can't wait to see how the addition of the free SIM card Developer Plan will change the IoT development game. To get started today, check out the links below.
Get your free Hologram SIM Card.
Learn how to pair Hologram with Ubidots
Learn more about Ubidots & Hologram
Ubidots is an Internet of Things (IoT) Application Enablement Platform that empowers businesses to build IoT applications that turn sensor data into actionable insights. Hiring an engineering team to develop an IoT application that both functions and looks great is costly in both time and money, so we did it for you. Ubidots exists as an efficient and economical resource to integrate the power of the IoT into your business or research.
Hologram is upending the traditional cellular model with an integrated, software-centric solution designed to expand the reach of the next generation of connected devices. With low power and long range in mind, we combine global SIM cards, simple data plans, and advanced cloud-hosted software, all packaged together for easy deployment in the field.
If this is your first IoT application, check out how to building an IoT application in under a day for some helpful tips to getting started.