Internet of things application development and deployment is known to be a very complex and challenging task for entrepreneurs and engineers; where to start? how to build the App data storage? what hardware to use? what software to use? how to engage end-users with the Apps' UI? do we need to send alerts or notices? These are just a few questions every Application architect must answer when assembling the proof of concept (PoC), let alone the in-production solution. Sounds pretty difficult, right? Well, it does not have to be if you use Ubidots.
New to the Internet of Things? check out this infographic to learn the different stage of an IoT Deployment.
With any IoT application, the focus is on solving a problem or optimizing a usage with sensor, actuator, and beacon data. Building an Application to collect, store, retrieve, compute, visualize, and alert end-users to the importance of their data comes down to just three factors: Time, Money, and Technical Expectations. To build a native IoT Application using an infrastructure cloud vendor like AWS, Bluemix, or Google Cloud with an Entrepreneur could outsource a development team which will cost on average $8,000-$75,000 per year in development, cloud services, and App maintenance costs. All not without 400-1,000+ hours required to reach a point of deployment or implementation.
With the costs and technical expertise required to build a native App being so high for privately developed solutions, IoT Entrepreneurs had nowhere to turn to affordably develop and deploy of "smart solutions." This massive void in Application deployment capabilities is now being filled by Ubidots IoT Application Development and Deployment Platform.
Ubidots is a cloud Application software that allows Entrepreneurs to assemble essential application components to rapidly launch IoT Apps and PoCs to end-users. A single IoT Entrepreneur can now assemble IoT Applications and take them to market for less than $1,000, no longer requiring a team of developers or development costs. Easy enough, right? Okay – let's get started…
By utilizing the core components provided by Ubidots you can effortlessly design and assemble your IoT App to ingest, store, visualize, and act on the data that is being collected from the sensors, actuators, or beacons in the field.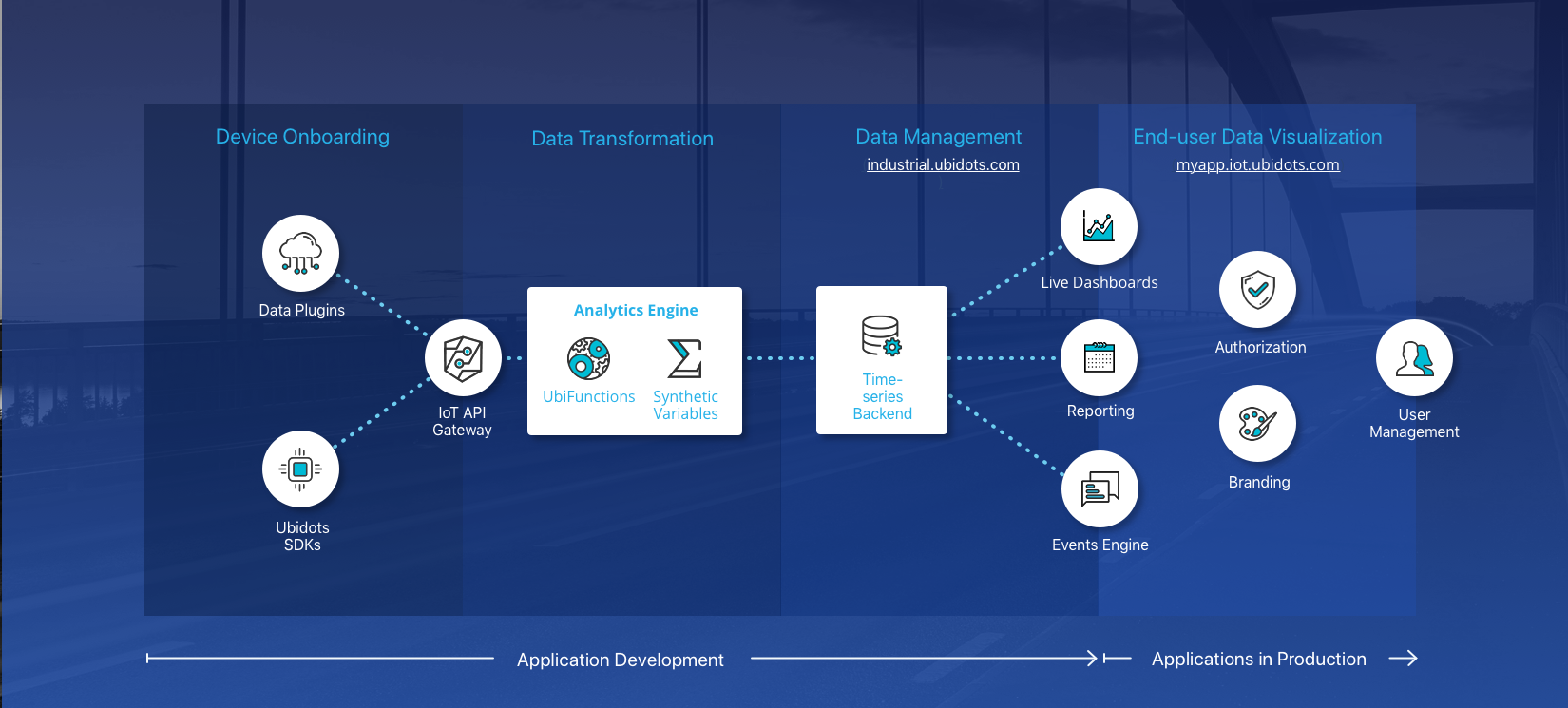 Essential Application components to take your idea from PoC to Production:
200+ SDK and Integration Tutorials to guide your hardware integrations to Ubidots so you do not have to figure out how to send data to the cloud yourself (hint: it is not easy).Connect hardware to Ubidots cloud easily over HTTP, MQTT, TCP, UDP, or by Parsing custom/industrial protocols.
2. A time-series storage database that gives all data collected a "time-relative" importance, making sure to collect and categorize all data sent to Ubidots cloud.Send data to Ubidots cloud and power your Apps with a global architecture to keep you end-users informed to the past, present, and (coming soon) future.
3. An analytics engine to compute and transform data payloads immediately upon receipt, avoiding the need for 3rd party sub-services.Create your own API Endpoint in seconds and begin sending data to your private serverless API to run functions that parse, transform, aggregate, and improve your data.
4. Pre-built real-time engagement widgets, charts, indicators, and controls to help you visualize data in real-time. Give your users insights in the form of dashboardsto easily access and understand insights without needing to be a data scientist.
5. Schedule reports to ensure daily, weekly, monthly reporting and analytics are delivered to customers and end-users as they need them.
6. Real-time alarm and events engine to keep users informed and alert to their situations.Compile alarms, notifications, and events based on the incoming data to send SMS, Email, Telegram, Webhook, and Slack events to those who need to know.
7. Skip the headache of end-user security and let Ubidots handle your stress User Management and permission Roles. Allow end-user of your App to edits and access only the data and App components you want them to. Saving you the effort to authenticate and secure all user engagement.
Analyze end-user consumption patterns with App analytics provided by Ubidots.
8. Custom branded Apps accessible on Web and Mobile. Put your best face forward, and present your App and the ingenious value it provides with the logos, colors, and likeness of your brand.
Launch your web App with a customizable, secure (HTTPS) App Domain.
Request to download your Ubidots powered Mobile App and upload to the Play Store for your customers to download and take advantage of.
On-premise deployments to put Ubidots whole platform on a private server to have the complete App development and deployment solutions on-hand and available from private servers.
Conclusions
IoT Entrepreneurs with "smart" ideas utilize Ubidots and the essential IoT App components available to assemble and deploy web and mobile IoT Apps to their end-users.
Unlike other IoT Application Platforms whose focus is pretty charting or hardware connectivity, Ubidots focuses on the last-mile of IoT deployments to fast-track PoC projects to become production-ready Apps – fast. Developing and maintaining your own native IoT App is costly in Time, Money, and Technical Expectations. Save all three by using Ubidots to make your "smart" solution a reality.