The term IoT, short for the Internet of Things, is becoming quite popular as businesses and individuals continue to incorporate internet connected devices into their lives. Amazon's Alexa is an IoT device as is your smartphone. These commercial products already number in the millions, but the largest growth of IoT expansion can be found outside these personal experiences and in our chairs, washing machines, streetlights, factory floors, oceans, and beyond. When referencing IoT, it is becoming increasingly difficult to navigate all language, acronyms, and 1,000s of platforms all vying for your attention. To alleviate this headache, Ubidots put together an elementary infographic to help guide the development of an IoT solution. Sure, this is a rudimentary description of an industry driving the next evolution of business and personal efficiency, but with this infographic focused on How IoT Works help you better understand the steps and immediate questions to ask when building an IoT solution.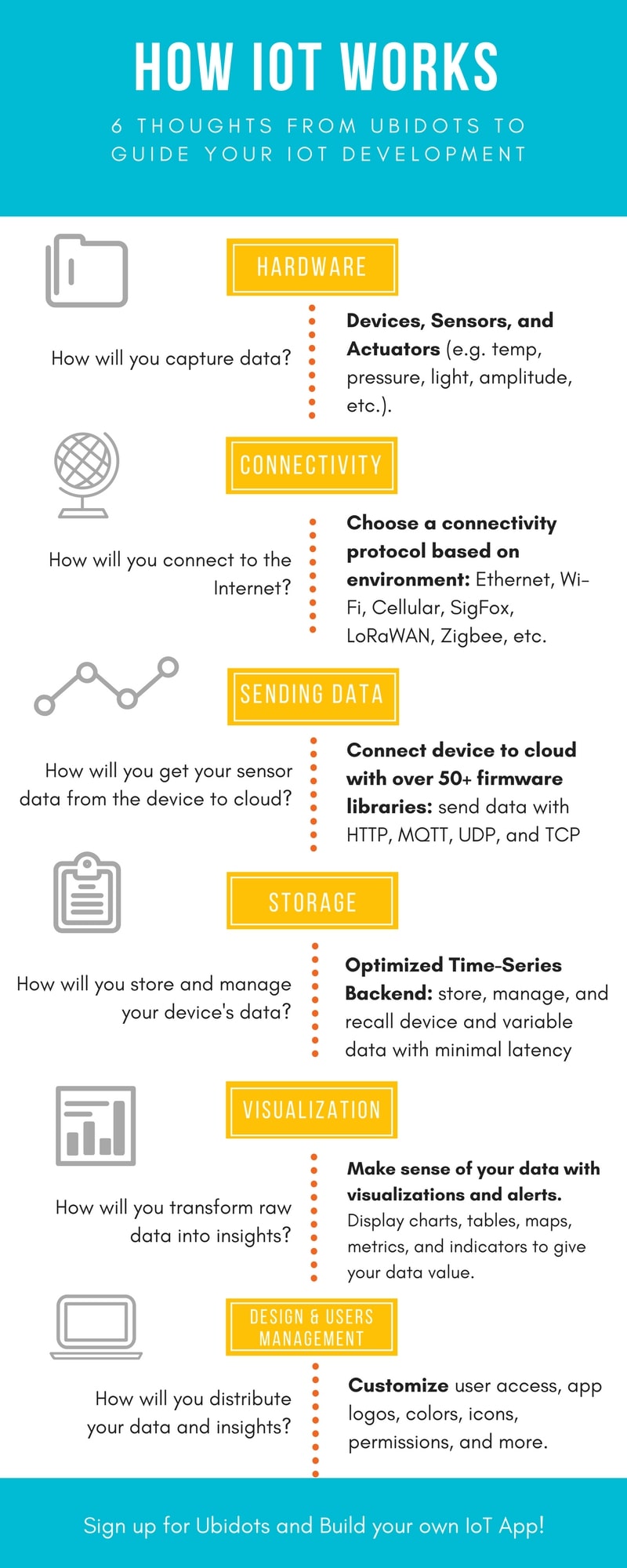 Want to learn more about IoT development?
Create a free account in Ubidots where you'll be able to connect devices, create custom alerts, and visualizations your insights for free with Ubidots for Education. Or, if you have a development you need to get into the hands of Customers or test a POC – check out Ubidots to get more from Ubidots and your application development.
Also, check out the Ubidots Academy, a set of video tutorials to teach you how to use Ubidots.
If you get stuck somewhere along the way or have a question – check out the Ubidots Help Center filled with articles to help assist or troubleshoot your roadblocks.
Finally, check out just how simple development can be with Ubidots' point-and-click application development environment in this short video.
At Ubidots, we're here to help you achieve your IoT goals. If this is your first time at our blog – let us know your thoughts below or follow us on Facebook, Twitter, and Linkedin and shoot us a note there.