At Ubidots, we work daily enabling IoT Entrepreneurs, IoT Engineers, and those exploring IoT solutions with Application development components and tools to efficiently assemble IoT Apps that deliver insights and solve problems. Seeing our user base grow in 2018, we kicked it into overdrive this last quarter to better serve all the new and continuing developers of Ubidots. Accordingly, we are very proud to announce 3 new IoT App Development Components and some new tools that you can use to Develop and Deploy your very own IoT Application.
Specifically, we are announcing:
New Components:
Ubidots Data Explorer (beta), an admin data analysis tool to identify trends, anomalies, and correlations
Dynamic Dashboards, data visualization with primary and replica technology (master/slave) to efficiently see different device data effortlessly. Gradual rollout to users began Oct. 17th
Device Group Bulk Operations and Global Events, efficient App device management for scaling IoT Solutions
Other Tools released:
Ubidots Developer Hub and Documentation – Are you Software Minded? or Hardware Minded?
"Back to Normal" notifications – learn more
Voice Calling notifications – learn more
Admin in-app notification center
Account Usage Analysis
These new components and tools were built with your needs in mind and we want to send a special thanks to the 200+ developers who over the last 3 months conducted testings, feedback, and notes to ensure these new tools are applied correctly to make the task of IoT App development simpler than ever before. We are excited to announce these components and see how you use them to assemble real IoT solutions.
Continue reading in-depth about the new components below.
Ubidots Data Explorer – It's time to closely Analyze Data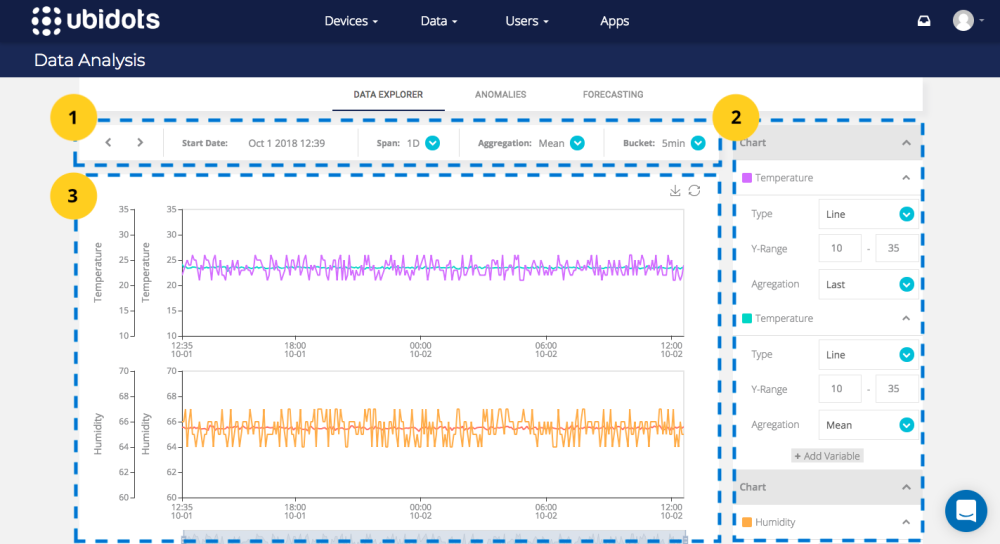 The Ubidots Data Explorer is a collection of data analysis tools to help identify and analyze trends, anomalies, and correlations across variables in an App. With the Data Explorer you can:
Apply regression algorithms to create trend lines and insights with Regression Analysis.
Analyze data across different time periods with Historical Data Navigation
Compare two or more variables one-on-one or across several charts with Correlation Analysis
Graph variables along with a rolling mean, max, min, and/or sums with Max/Min Analysis
Perform moving average analysis for anomaly detection with Anomaly Detection
The Ubidots Data Explorer is now available in beta, and you can learn more here.
Dynamic Dashboards – Visualize Device Insights

With the master/slave logic of Dynamic Dashboards, when a device is selected from the dashboard setting bar, then all variables within each widget will automatically update to reflect the device's variables. This is achieved because dynamic dashboard widgets are not associated with predetermined variables, but instead, with variable labels (i.e. label=temperature).
Create your first dynamic dashboard with Ubidots today – sign up now!
Bulk App Operations – using Device Groups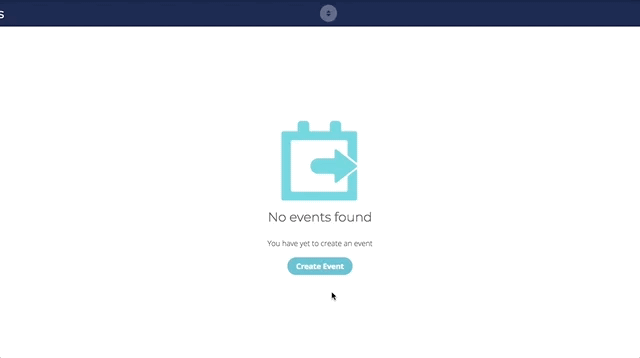 Device Groups couple devices to perform batch operations, including but not limited to bulk adding devices to an Organization or create a global event across an entire device network. Using Device Groups admins can:
Create Global Events across a network of devices
Bulk assign Devices to Groups
Bulk assign Devices to an Organization
Bulk delete Devices – learn more
Create hundreds of Devices with a simple CVS upload – learn more
WHAT'S NEXT?
Stay tuned for what is looking to be our most exciting releases of 2018 with the coming additions and expansion of inter-platform communications with Ubidots Data Plugins and major improvements to the App end-user experience.
Your feedback on Ubidots software, hardware integrations, and ongoing development with Ubidots IoT Application Development and Deployment platform have helped shape our platform and services to see you succeed. We're on "cloud-9" with these releases and cannot wait to hear your opinions and how you'll connect the dots to Ubidots and deliver a problem-solving solution.
Have some ideas or comments you'd like to share with Ubidots? Let us know at support@ubidots.com.