Hello, i´m trying to get the subscriptions working. I just created a variable called sw1 in ubidots and add a switch widget in the dashboard and upload a simple example code to the ESP8266 board for MQTT subscription.
I can not get anything on the boar side … here is de serial monitor: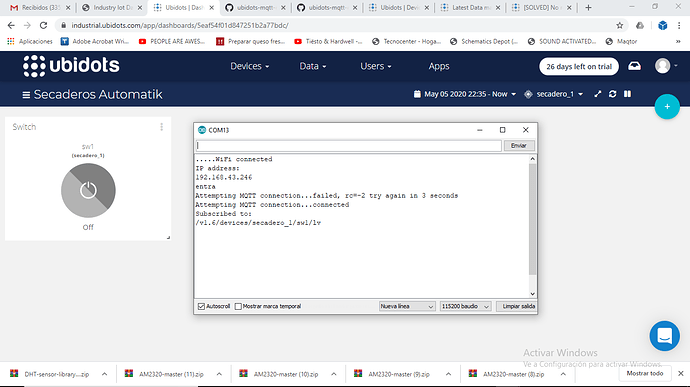 It seems it never callsback … do you have any idea why there is a "/lv" added to the topic at the end ?
I think this could be the problem but I hardcoded de "device label" and de "variable label´" … i dont know why subscribed to that topic.
here is the code also:
#include "UbidotsESPMQTT.h"
#define TOKEN "MY_TOKEN" // Your Ubidots TOKEN
#define WIFINAME "LG_K10" //Your SSID
#define WIFIPASS "MY_PASS" // Your Wifi Pass
Ubidots client(TOKEN);
void callback(char* topic, byte* payload, unsigned int length) {
Serial.print("Message arrived [");
Serial.print(topic);
Serial.print("] ");
for (int i=0;i<length;i++) {
Serial.print((char)payload[i]);
}
Serial.println();
}
void setup() {
// put your setup code here, to run once:
Serial.begin(115200);
client.setDebug(true); // Pass a true or false bool value to activate debug messages
client.wifiConnection(WIFINAME, WIFIPASS);
client.begin(callback);
client.ubidotsSubscribe("secadero_1","sw1"); //Insert the dataSource and Variable's Labels
}
void loop() {
// put your main code here, to run repeatedly:
if(!client.connected()){
client.reconnect();
client.ubidotsSubscribe("secadero_1","sw1"); //Insert the dataSource and Variable's Labels
}
client.loop();
}