I am looking at a new service from Particle called Particle Rules Engine - which is a managed implementation of NodeRed. One of my early efforts will be to use this service to add weather data to the hourly data uploads from my devices. I am looking auto using Dark Sky which offers micro-forecasting so I can put a fair bit of (real or imagined?) precision into the data.
So, here is the approach -
Particle Rules Engine - Node Red
Ubidots Node Red plug-in
Dark Sky plug-in
An injector to kick off an hourly update
It looks like this:


I have tested this and I can receive the data in Ubidots which looks like this: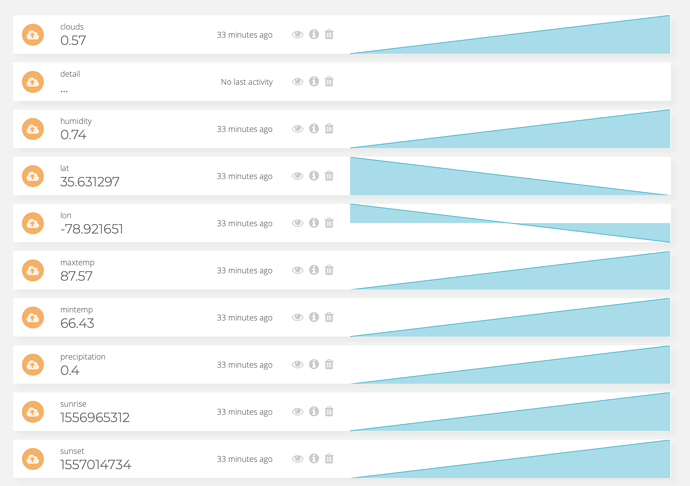 So far, so good. Here is where I need some help:
Can the lat and long be added to one of the other values (such as temp) as "context" so I can use the Ubidots map widget?
Some of the data is textual, such as "detail" which is a one word description of the weather. How can I capture this. Context again?
Even for folks that don't use Particle, this approach using Node Red seems like a very useful way to add weather context to Ubidots data.
If there is a better way of doing this, I am all ears.