The work-from-home force, LPWAN, and cloud developments became the drivers to IoT adoption in 2020, and beyond.
Though first coined by MIT's Auto-ID Center cofounder Kevin Ashton in 1999, it would take another decade for the term "Internet of Things" to become well-known. 2010 saw Google's StreetView service collecting data in panoramic images and people's use of Wifi networks. That same year, the European Parliament endorsed the development of the Internet of Things, while the Chinese government announced its first-ever official national IoT plan.
But it would still take an extra decade for IoT to enter the mainstream. Fast forward to 2020 and witness IoT entrepreneurs, tech companies, and governments adopting IoT technologies to address real-world problems, creating tangible value across multiple industries.
Despite a global pandemic, IoT fuelled organizational developments and digital transformations across all industries. We must first reflect on our challenges and successes to evolve and grow as an exciting and revolutionary industry. In this blog post, we will discuss five reasons and reflections on why 2020 was the breakout year for the Internet of Things.
1. Connected Devices Surpass The Internet of People in 2020
For the first time, the number of IoT connections (such as smart cars and home devices) has passed the number of non-IoT connections (like smartphones and laptops) worldwide.
According to IoT Analytics' State of IoT Q4 2020 & Outlook 2021 Report, 11.7 of the 21.7 billion active connected devices worldwide will be IoT connections by the end of the year. The research group predicts this number will balloon to 30 billion by 2025, for an average of 4 IoT devices per person.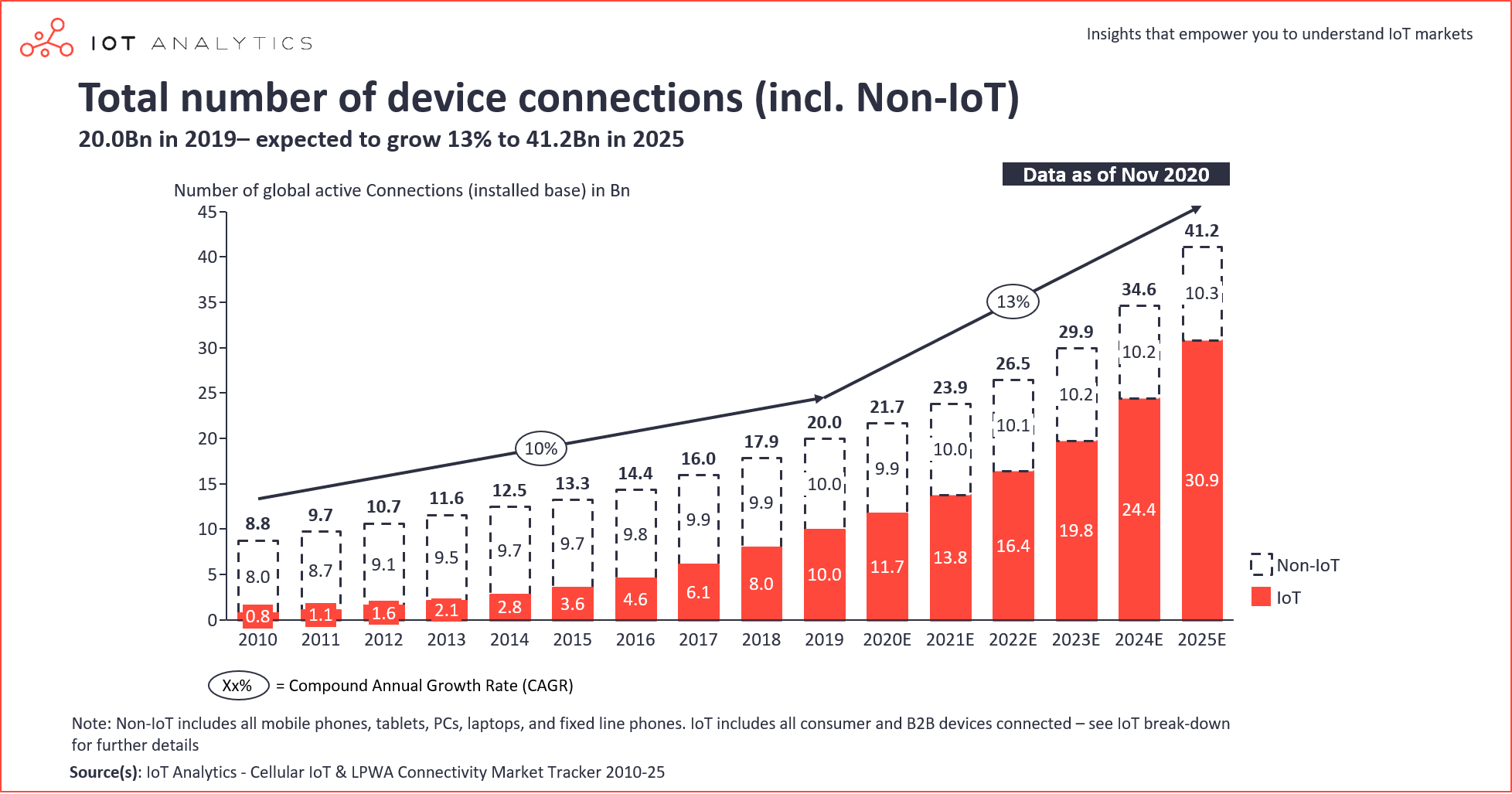 This number might look small compared to the original forecasts, but the missing billions are still yet to come; it is only a matter of time. More importantly, this difference might include the missing devices of failed IoT deployments, which serve as lessons learned on how IoT technologies should work in tandem, and how IoT projects should be formulated, sold, and executed. It is a measure of maturity.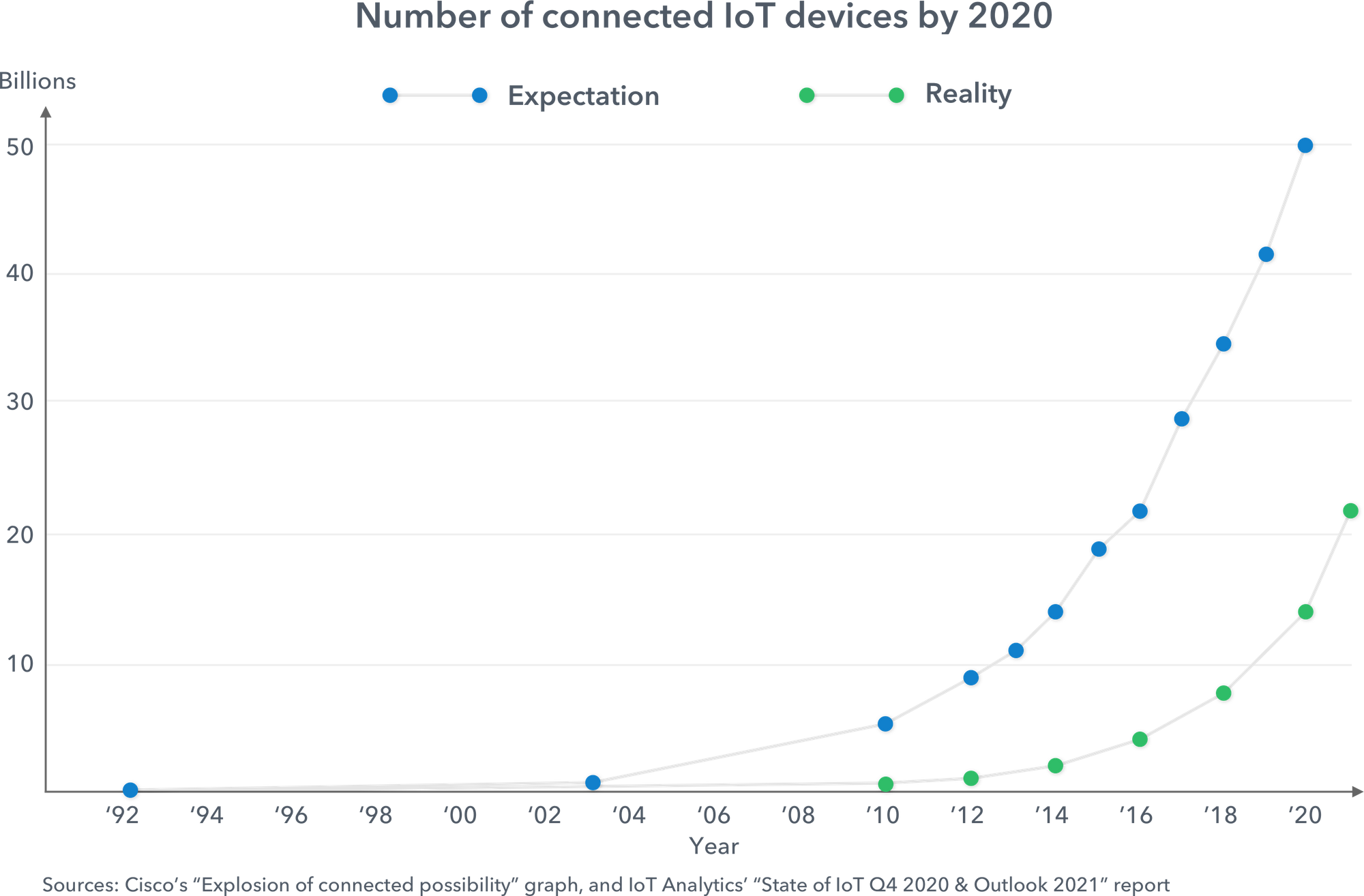 2. More Remote Work = More Remote Connections
Looking back on IoT in 2020, it is clear that the ongoing COVID-19 pandemic has completely upended the way we work. With companies across every industry shifting to work-from-home solutions, managers have sought IoT solutions to streamline their workloads.
As we've previously covered in the agricultural field, IoT devices brought about vast developments for farmers, including:
Pest control management,
Efficient animal monitoring,
And water waste reductions.
These benefits minimize costs and optimize agricultural output. But smart farming is just the tip of the iceberg; accessing actionable data at the touch of a button has proven to be an invaluable asset for business management in every industry.

3. IoT Growth in 2020 is Driven By Rapid LPWAN Market Growth
Over the last decade, several tech players have been working hard to address the extended range and low bandwidth connectivity opportunity. In 2020, this effort seems to be paying off. According to Statista, LoRaWAN and NB-IoT are taking the lead and could account for around 85.5% of all LPWAN connections by 2023: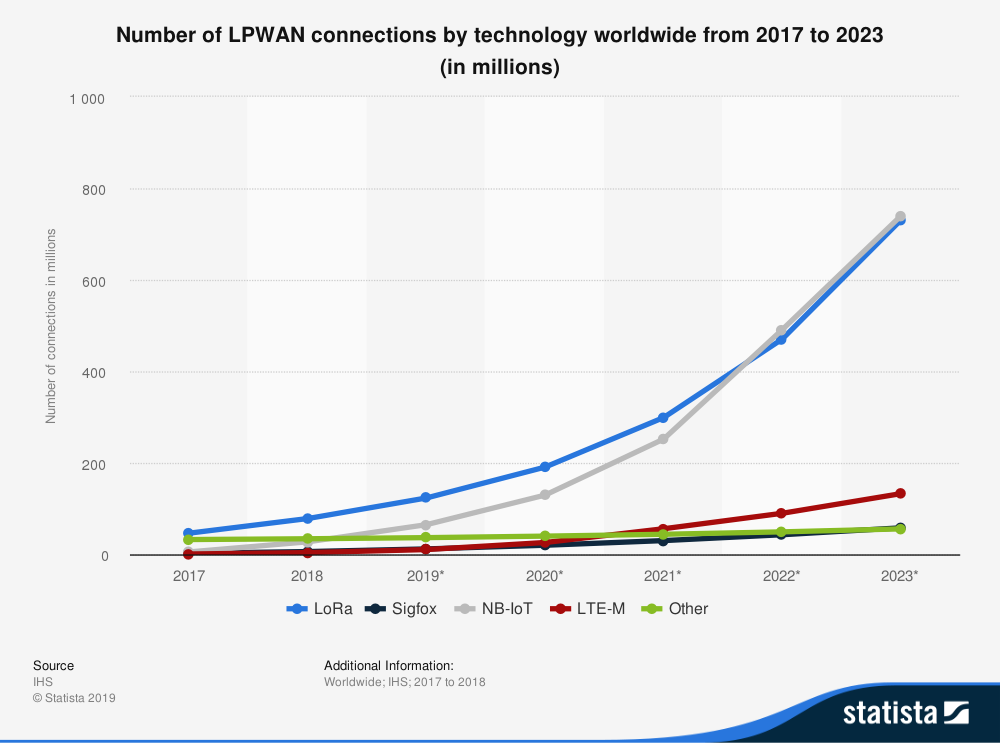 More important than the forecast, however, is that LPWAN has proven to be a strong driver of IoT market growth in recent years. An IoT Analytics report published in January 2020 found that the LPWAN market grew at a CAGR of over 100%, with 231 million connected devices by the end of 2019.
A Note on LoRaWAN: The Value of an Ecosystem at Play
During this year's The Things Conference in Amsterdam (yep, right before the global lockdown), we witnessed a more mature ecosystem in terms of IoT components' availability and interoperability. From hardware to cloud, we noticed much more outlined value offers and clarity on how they fit into the IoT stack and value chain:
Hardware players offering industrial-grade, purpose-built IoT devices compatible with several LoRaWAN Network Servers. Aonchip's Smart Valves, and Thingy's wildfire detection system are good examples of this.
Hardware players offering low cost and low maintenance gateways, including 4G connectivity options.
Cloud players are offering horizontal enablement tools, such as Ubidots' Application Enablement Platform.
A clear LNS (LoRaWAN Network Server) category, with The Things Industries leading the way (at least in terms of mind-share! we don't have any data on market share)
The LoRaWAN Alliance as a facilitator and standardization body within the ecosystem.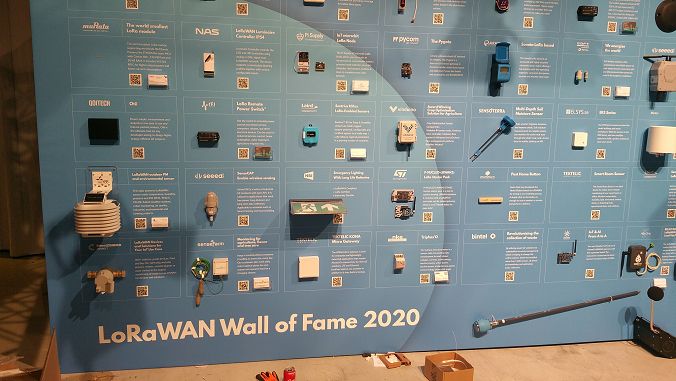 When such enabling technologies work together to meet market needs, quick adoption is expected. Sydney's Coogee Smart Beach project is an excellent example of why building a smart city has never been easier, thanks to LPWAN technologies and their surrounding ecosystem.
If you're curious about which other LPWAN technology is setting the pace and beyond, check out our article comparing these two IoT trendsetters: LoRaWAN and NB-IoT.
4. Cellular IoT Forecasted to Exponentially Grow

LPWAN has a couple of rising stars beside their non-cellular cousin, LoRaWAN. With cellular IoT technologies like NB-IoT and LTE-M growing their coverage in 2020, the Internet of Things is finally moving towards a mobile-first world.
Here's a snapshot of GSMA's Mobile IoT Deployment Map as at the writing of this article. As you can see, most of the world's population is already covered, paving the way for successful deployments.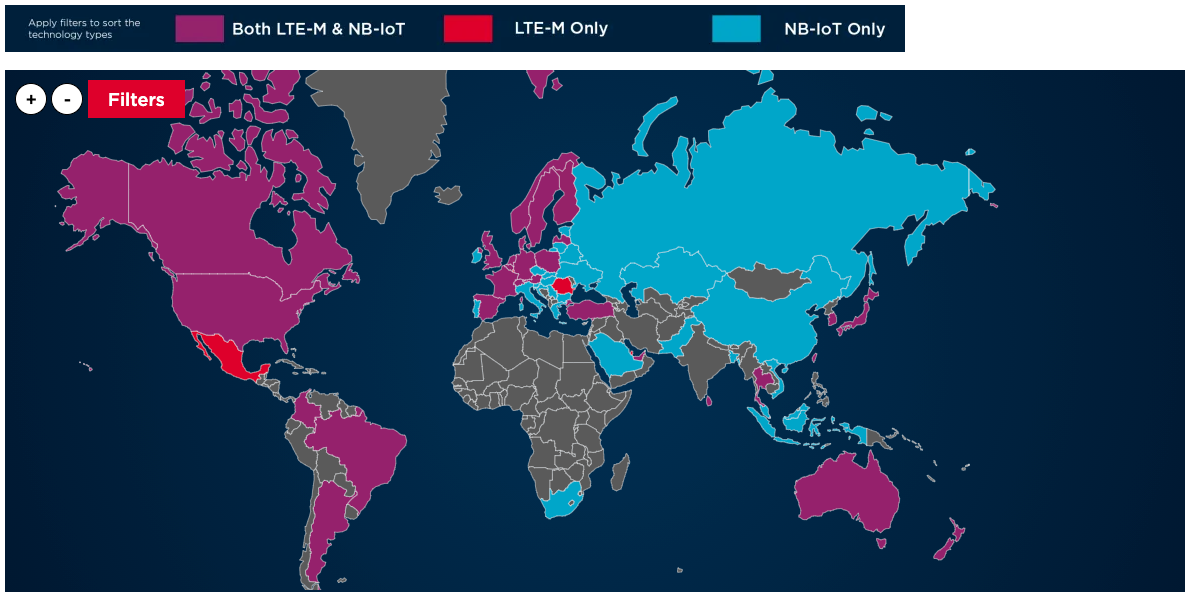 Coverage was just the first step. Cellular IoT devices have already accounted for 180 million connections in 2014, and that number has increased 4.5 times in the six years since. Its immense application potential reaches across nearly every industry, from transportation and agriculture to manufacturing and environmental management.
With many major tech companies and governments investing in its promise, cellular IoT is predicted to completely reshape both machine-to-machine and machine-to-human communications in the years to come. Rising IoT startups like Particle have taken the trend on board, offering product suites aimed specifically (and almost exclusively) at cellular development.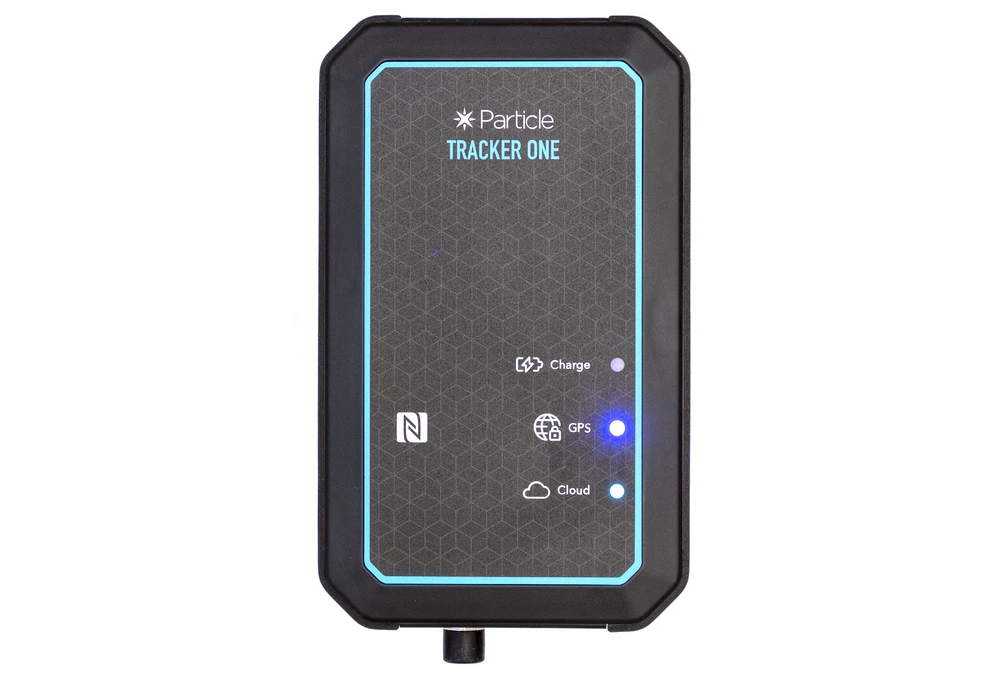 5. IoT Cloud Platform Market Growth

Reflecting on 2020, it is clear that the array of tools to swiftly deploy connected devices contribute to the mainstream adoption of IoT technologies in industrial, commercial, and consumer spaces. IoT developers and entrepreneurs are launching solutions (and even entire businesses!) faster than ever before.
Spurred on by the need to increase operational efficiency, we expect the global IoT cloud market size to experience rapid growth in the coming years. An April 2020 report (which included AWS, Microsoft, Google, and yours truly, among others) predicted it to grow at a CAGR of 12.6% from 2020 to 2025.
Broken down into device management, connectivity management, and application enablement, it's the latter segment that's forecast to experience the highest growth.
Why AEPs, you might ask? AEPs enable new entrants to seize opportunities and offer complete device-to-cloud services to third parties. They are thus allowing IoT entrepreneurs and System Integrators take a bite of this accelerating market segment.
Take Chip McLelland, a North Carolina-based entrepreneur who quickly engineered a national park attendance monitor using existing cloud technologies, such as Particle and Ubidots. IoT projects don't have to be a massive undertaking and can be as simple as integrating existing technologies to track data that's valuable for a target segment.
Like the markets outlined above, the Asia Pacific region is indicated to experience the highest growth rate, with IoT vendors like Shenzhen, Samsung, and Hitachi investing heavily in commercial user adoption initiatives.
What's Next?
The tech advancements and cultural shifts in 2020 helped companies accelerate digital adoption across the board, and IoT wasn't the exception. COVID-19 has transformed the way the world does business forever, with companies across every region and industry accelerating the digitization of their product offerings, customer interactions, and internal operations.
Expect these changes to be long-lasting. This abrupt shift towards remote work and interactions has pushed companies over a tipping point of genuinely epic proportions.
So what's next for 2021?
We predict it'll be the year of cellular IoT. Asian governments have a keen interest in developing national cellular IoT strategies, and various cellular IoT startups are popping up across Europe.
North America currently holds the largest cellular IoT market share, with development projects across the agriculture, infrastructure, transportation, and construction industries only expected to grow.
We can't wait to see what's in store for IoT in 2021 and beyond, with so many wheels in motion (and yes, we mean that literally. Here's looking to the smart cars in smart cities!).
What do you predict will drive the future of digital and IoT adoption? We'd love to hear your thoughts in the comments below.