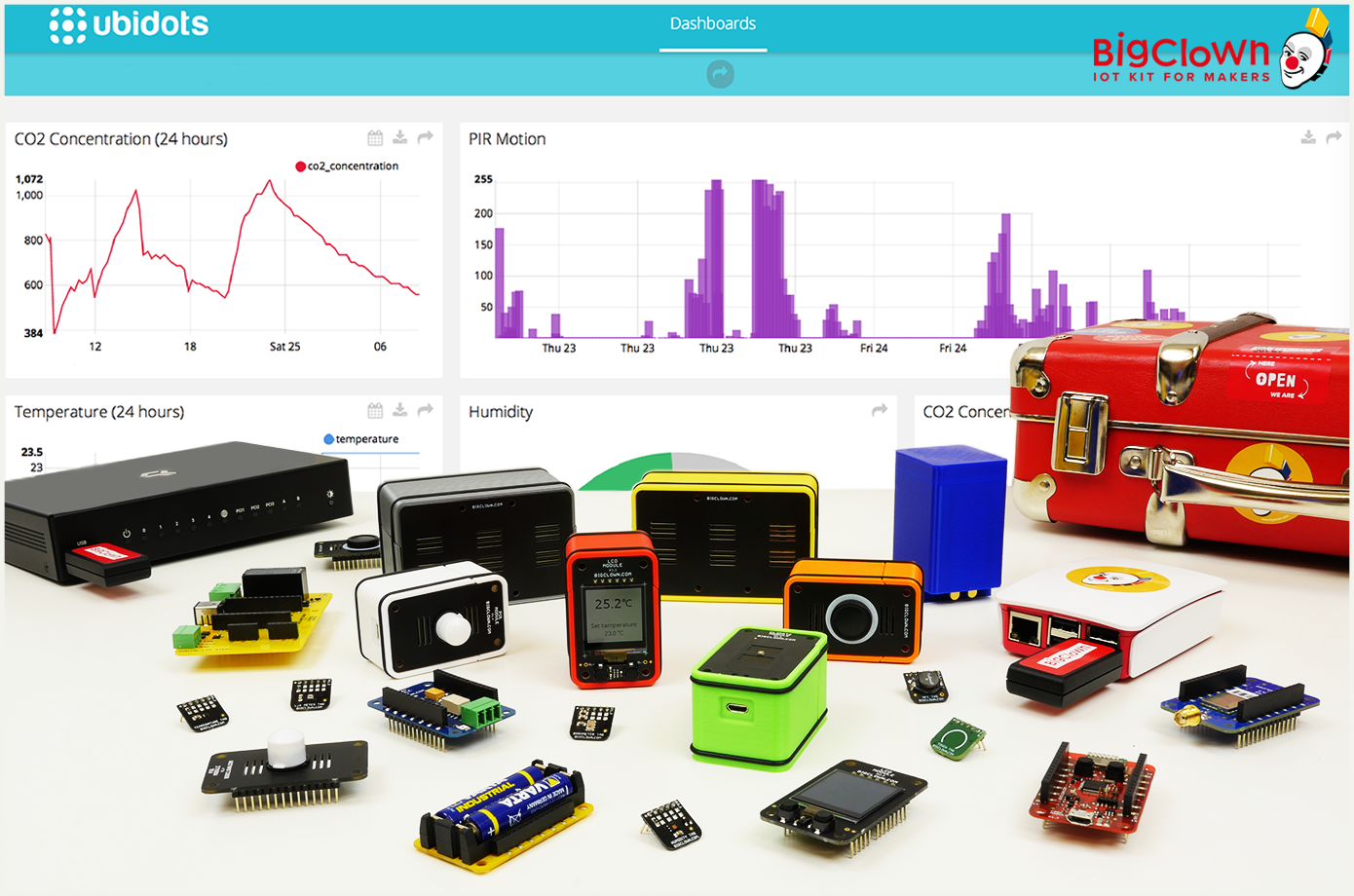 <
We are all makers, and so are you!
January 16th, 2018 Ubidots and BigClown are thrilled to announce an affordable (and educational) hardware and software solution for makers, innovators, explorers, and educators alike. BigClown and Ubidots were both born from the maker community with innovation not only being a prerequisite but the mission!
The Internet of Things (IoT) is a complex world to navigate but Ubidots and BigClown make it manageable. All IoT (Internet of Things) or internet connected solutions require 1) Hardware, 2) Connectivity, 3) Time-series backend or Cloud, and 4) Applications to interpret the data. Ubidots and BigClown together combine the point-and-click application development and time-series cloud of Ubidots with the hardware and connectivity solutions of BigClown to provide the end-to-end IoT deployment.
Now as partners, Ubidots and BigClown look to advance the adoption and acceptance of IoT solutions as each organization continues to push the boundaries for the lowest possible pricing while maintaining exemplary ease-of-use achieving the 4 D's of Development: Dream; Design; Deploy; Deliver!
Supporting 6 solutions out of the box – motion detection, push buttons, climate monitoring, LCD thermostats, CO2 detection, and flood monitoring – BigClown has your monitoring solutions in hand, or piece together your own devices without soldering or wires with the plug 'n make components, all whilst communicating with Ubidots using sub-GHz radio or Sigfox, with LoRa and NB-IoT on the way.
Dream – Design – Deploy – Deliver
With these 4 Ds of Development, Ubidots and BigClown have your IoT connected solutions available for innovation and implementation. Get started today and pre-order your IoT Kit for Makers and get a "Big Discount" or starting January 23rd order your IoT Dev Kits and support the BigClown Indiegogo funding raise along the way.
Learn more about Ubidots & BigClown
Ubidots is an Internet of Things (IoT) Application Enablement Platform that empowers businesses to build IoT applications that turn sensor data into actionable insights. Hiring an engineering team to develop an IoT application that both functions and looks great is costly in both time and money, so we did it for you. Ubidots exists as an efficient and economical resource to integrate the power of the IoT into your business or research.
BigClown is a maker-friendly IoT hardware equipment manufacturers whose segmented technology and board designs allow for 1,000s connected solution options. Headquartered in Liberec, Czech Republic, BigClown is making waves early with live hardware in the Czech National Agriculture Museumand 100's of European makers. Have a question? Get in touch today